It seemed like a very simple assignment at first. Students were asked by their teacher to write a poem about themselves. It was national poetry month and she wanted to see what her students could do. As it turns out, there was one insightful student who had something poetic to say.
His name is Benjamin Giroux, a 10-year-old boy with a form of autism known as Asperger syndrome. He wanted to write his own poem but in the end, it was a viral message that helped many people with autism around the world.
What Benjamin wrote was an emotional letter about his life and how he feels 'odd' because of his autism.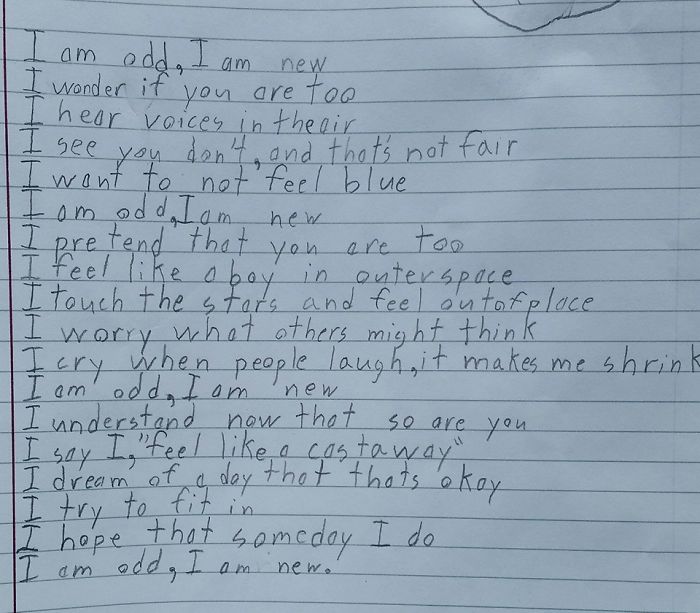 I am odd, I am new, I wonder if you are too.
I hear voices in the air
I see you don't, and that's not fair
I want to not feel blue
I am odd, I am new
I pretend that you are too
I feel like a boy in outer space
I touch the stars and feel out of place
I worry what others might think
I cry when people laugh, it makes me shrink
I am odd, I am new
I understand now that so are you
I say I, "feel like a castaway"
I dream of a day that that's okay
I try to fit in
I hope that someday I do
I am odd, I am new.
When his parents read the poem they were touched.
"At first, we felt sad and hurt that he feels isolated, alone, misunderstood and odd at school," Benjamin's dad Sonny told Today.com.
"As the poem went on, we realized that he understands that he's odd and that so is everyone else in their own way, which is what Ben wants everyone to embrace."
Benjamin! You fit right in with all of us because we're a little #oddtoo. Share if you agree!