On December 6, 2017, just four days before her 5th birthday, Braylynn Lawhon was diagnosed with DIPG (Diffuse Intrinsic Pontine Gliomas), an inoperable form of brain cancer. DIPG is an extremely aggressive cancer, with a very low survival rate, and at the time that Braylynn was diagnosed, she was tragically given just one year to live.
Her aunt Shawnon, who described Braylynn as a "happy, smart, enjoyable 4-year-old" at the time of her diagnosis, later explained the heartbreaking news on a GoFundMe page her family set up to raise money for her medical treatments.
"We were told it is inoperable, chemotherapy does not affect it and the only thing they can do is use radiation to slow the growth process," wrote Shawnon. "This may only help for about two months and then it will stop working as well. She has less than a 10% survival rate. We were told she may live for about a year."
Yet despite all of this, Braylynn's family had hope. Shawnon says they were hoping to send Braylynn to North Carolina, to a surgeon who had success operating on tumors like Braylynn's.
But all those hopes were dashed in a shocking turn of events that happened just a few days ago. On January 6, Braylynn was admitted to the hospital, for what seemed to be a bad case of congestion. But as her mom Ally later shared on Facebook, it turned out to be something much more serious.
"Prayers please," Ally wrote in her post. "We're in the ER. Braylynn has been sounding very congested today. We've had a CT done and they said they think there may be a small bleed in the tumor, but they don't know for sure. They're putting her on a few new meds to decrease swelling just in case, and starting her on a breathing tube."
Within a few days, it became clear that Braylynn only had days to live, and that there was really nothing doctors could do to prolong her life — their only hope was to make her more comfortable as she let go. Braylynn was soon moved to hospice care, and the family has been there with her ever since, with extended family coming and going to say goodbye to Braylynn.
It was during those devastating few days that a powerful photo of Braylynn was taken. And soon after Ally shared it on her Facebook page.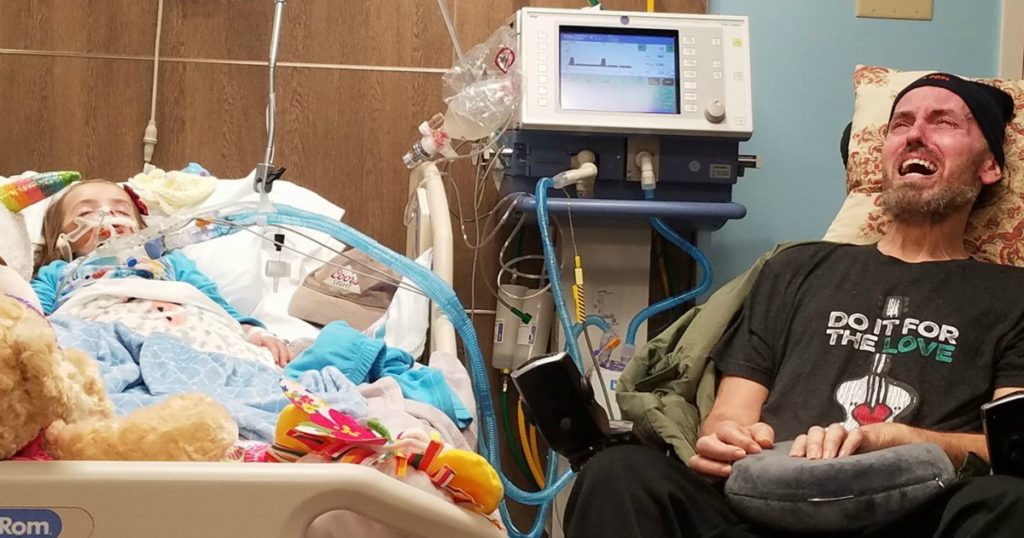 It is not a photo that is easy to look at, but that is part of the point. Childhood cancer is horrible and unfair. And we need to be aware of how it destroys the lives of all it touches. No parent, grandparent, or family member should have to endure it.
And Braylynn's mom Ally knows that all too well.
"Today is the day that everyone will have to say their final goodbyes, to a FIVE-year-old," wrote Ally, on the same day the photo was shared. "This should never happen to anyone. There is no one in this world who is evil enough to deserve to feel what I am currently feeling. My baby girl deserves to live a full, happy life, and so does every other child who has had to face DIPG."

Braylynn's mom Ally isn't just devastated by her own loss. As she wrote on Facebook, she is reeling from the fact that DIPG does not have a cure, and that so many other children will face the same awful fate that her daughter is facing.
"We have to put an end to this," Ally wrote. "No more kids can get this disease and be allowed to die from it. We HAVE to find a cure, not a damn band aid. These kids deserve so much more than that, someday soon someone needs to find out what that cure is."
Yes, we absolutely do. There is no way I can even begin to understand the pain this family must be suffering right now. But I do know that more must be done to find a cure to this disease, along with other horrific childhood cancers.
Braylynn's story — and the photo that depicts all of the trauma her family has endured — shatters my heart. But it's important that we all understand the harsh reality of childhood cancer, and above all, that we work together to find a cure.