The Love Island stars Jess and Eve Gale have said that they have to give themselves "pep talks" before provocative photoshoots because they don't always feel like the sexy figures fans see in photographs.
Jess and Eve Gale of Love Island talk about their bikini modeling jobs
The girls have continued to impress with stunning modeling shoots that feature their stunning bodies since they gained fame on the 2020 season of Love Island.
Their Instagram feeds are stuffed with hot photos of them in various revealing and revealingly revealing outfits.
The 23-year-old twins said, "If you look nervous, it's just not going to work!" when asked about their preparation for the camera.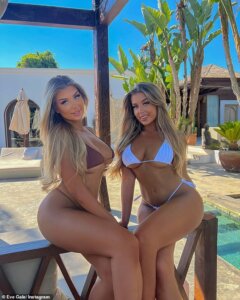 Jess and Eve admitted that they sometimes fake their confidence and put on a show of enthusiasm when they enter the recording studio even though they may be feeling anything but.
Eve elaborated on how they cope: "I feel like although we come across very confident on shoots, inside I'm like thinking, "oh my God, I don't feel it! I just try and get that across because I don't want to come across like I'm nervous."
Meanwhile, Jess added: "For the shoot we were literally in the bathroom, and we gave ourselves a pep talk and said "right let's go out and be confident and just do this!"
These blonde bombshells are always boosting each other up to be their sexiest selves, and they want their fans to do the same.
"One of the best things is to really get out of your head. A lot of people are insecure about what other people may think and they might have the spotlight effect thinking "everyone's looking at me". But really, what you see is completely minor to everyone else.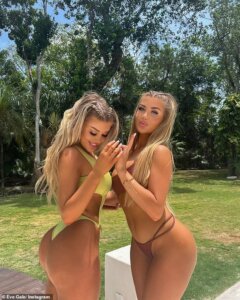 "I've never come across someone who is one hundred percent completely confident in themselves. But also, there's a little bit of faking it until you make it."
"If you walk out the door in an outfit that you like and carry yourself well and think "I look beautiful today", that's going to come across. Body language and what you tell yourself is really important." That's what they said.
Jess added: "I'm not at that stage where I'm confident to be like that, to be a body positive influencer, but there are so many out there, which is really useful."
In addition to their increased body positivity, the sisters' self-assurance in their professional lives has also increased since they first strutted into that Mallorca villa as 'naive' 20-year-olds.
Jess elaborated on what they've learned since becoming famous: "When I first came out of the villa, I didn't know the industry, I was just going with the flow and there were other people to rely on to make the decisions for you."
Jess and Eve, who have nearly two million Instagram followers between them and a burgeoning modeling career, recently discussed how they "fell" into their successful careers and expressed their gratitude for the opportunities that have presented themselves.
"We saw the kind of career you can get from it, and we thought we liked it" explained Eve.
"We really just learnt as you go along and now, we're just focuses on being the best that we can be. It naturally happened. It helps that we enjoy it, it's a good career. We can make money from it."