Disclaimer: This story includes images of child loss that may be triggering to some.
"'If you don't mind me asking, what happened?' I never mind and I actually love this question. When you ask what happened, you acknowledge I was pregnant for nine months, I had a baby but things didn't end the way we planned, versus pretending like I was never pregnant, pretending like I never had a daughter, and pretending like nothing ever went wrong. So here is Harper's story.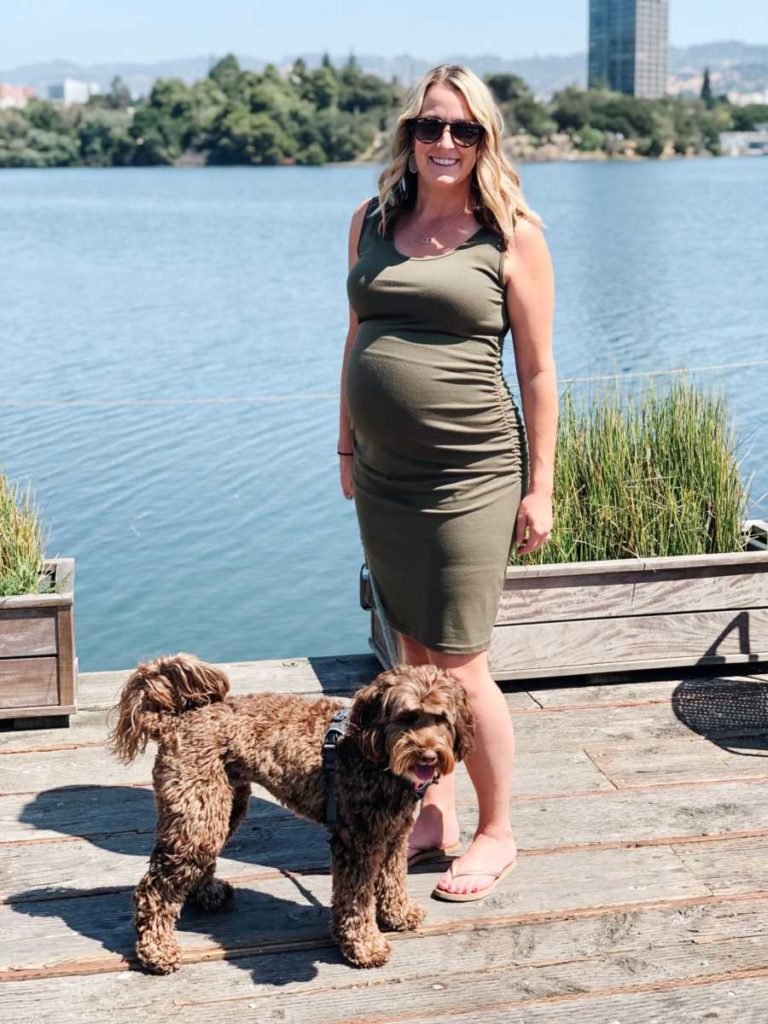 In the late afternoon of Wednesday, August 28, at 39 weeks and five days pregnant, we went in for our standard appointment. Every time, we were told I was having a 'perfect' pregnancy. I remember hearing the heartbeat jump when I'd laugh. We were talking about when I'd be induced, trying to coordinate around both my niece and my birthdays and when my doctor would be working as if you can really 'plan.'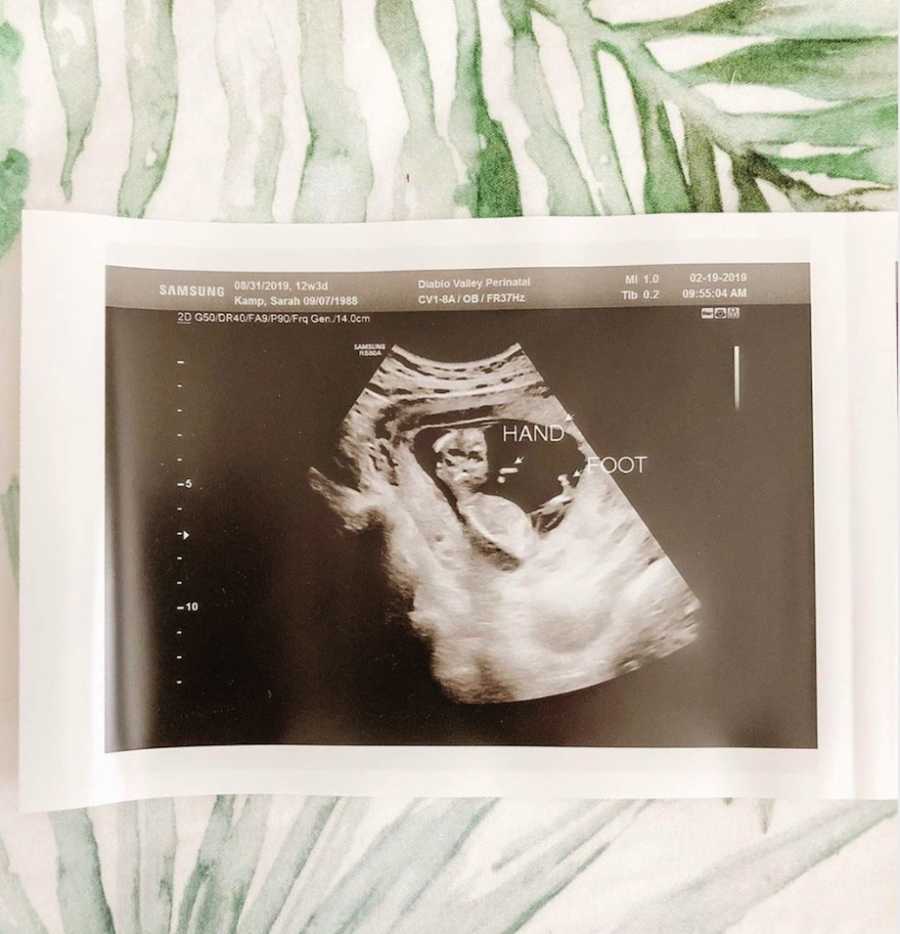 Friday morning, I emailed my doctor to finally pick a day to be induced, did my normal morning walk with Sadie (our labradoodle), and had workers at the house. Midday, I noticed I hadn't felt the baby much, which wasn't uncommon, as she wasn't very active to begin with. But something in me knew. I called my best friend to see what she thought. My parents were at the house and said, 'Just go in and get checked out.' I drove myself to the ER where Steve (my husband) met me.
We were brought to labor and delivery, where a nurse used the Doppler to try to find the heartbeat. In the 15 plus appointments, there was never an issue finding the heartbeat. It was in the exact same spot, on the right side of my belly. We'd find it immediately, every time. This time was different. It moved side to side, up and down, nothing. She pulled over the ultrasound, nothing. At this point, I knew. We waited for the doctor to come in. He used the ultrasound machine shortly, turned it off, looked us in the eyes, and said, 'I am so sorry, there's no heartbeat.' Just like that, your world stops. The pain that follows literally cannot be put into words. Your world is shattered, and the physical pain and panic are unreal. Breathing was hard and screaming, 'No, how is this possible? We were just here Wednesday!' over and over didn't change a thing.
Seconds later, it hits. You are overcome with panic because you realize you still have to give birth to a full-grown, full-term baby. I remember almost yelling, 'Omg, I still have to have the baby.' I had no idea if the baby was a boy or girl. It was the worst realization: my first experience with birth would be giving birth to death.
We cried so much. We called our families to deliver the news. Within minutes, our parents were at the hospital crying beside us. The doctor came back to talk options and said we could be induced that night, but it could be hours, a day, a couple of days–no one would know. My head was racing a million miles per hour. Could I go through days of labor knowing there would be silence at the end? Could I handle this mentally? What if it takes two days and my first child is born sleeping on my niece's birthday? What would that do to our families?
I called the doctor back in and asked if I could have a c-section. He agreed and said he would be the one doing it. Steve and I drove home in pure silence, looking out the window as the tears flooded. We walked in the house to a home full of baby stuff, to our hospital bags, to our baby's hospital bag. We tossed and turned all night.
At 5:00 a.m., we grabbed our bags, left behind the baby bag, as there wasn't a need, and went to the ER. I remember checking in. 'What are you here for?' 'A c-section,' I responded. 'How exciting! Do you know the sex?' 'No, we don't,' I said, thinking she should just give me the damn wristband and let me go. 'Oh, that's so fun. Congratulations!' I walked back to Steve, leaned my head on the wall and cried. The woman came out a few minutes later and said, 'I'm so sorry,' and alone, Steve and I walked the hallways back to labor and delivery.
I remember the nurses prepping me. They were all kind, but it's still a haze. Minutes before being rolled into surgery, my doctor, who was not scheduled to work, walked around the corner. We all started crying. I can't even put into words how much it meant to us that she came and was there for us. She said she didn't know how this could happen. She warned us we may never have an answer and asked, 'If there is something obvious, do you want to know?' We said yes.
Laying on the surgery bed, I was trembling. The room was not cold but I didn't stop shaking. I hadn't prepared myself for a c-section and I was scared. Steve was right by my face, rubbing my arm, crying with me the entire time. Our doctor said, 'It's a GIRL.' I cried in so much excitement, as I wanted a Harper so bad. I'd been obsessed with the name Harper for years. But my heart broke.
"I'd never get to bring my Harper home.
"I'd never get to yell 'Harper!' in our house.
"I'd never get to take Harper to the beach.
"I got my little girl but at the same time, I didn't.
Seconds later, the doctor asked if we still wanted to know if it was an obvious reason: there was a knot in the umbilical cord. Just like that Harper Rae, 8 pounds 1 ounce and 21 inches, was born at 8:03 a.m. on August 31st, 2019, her due date, sleeping.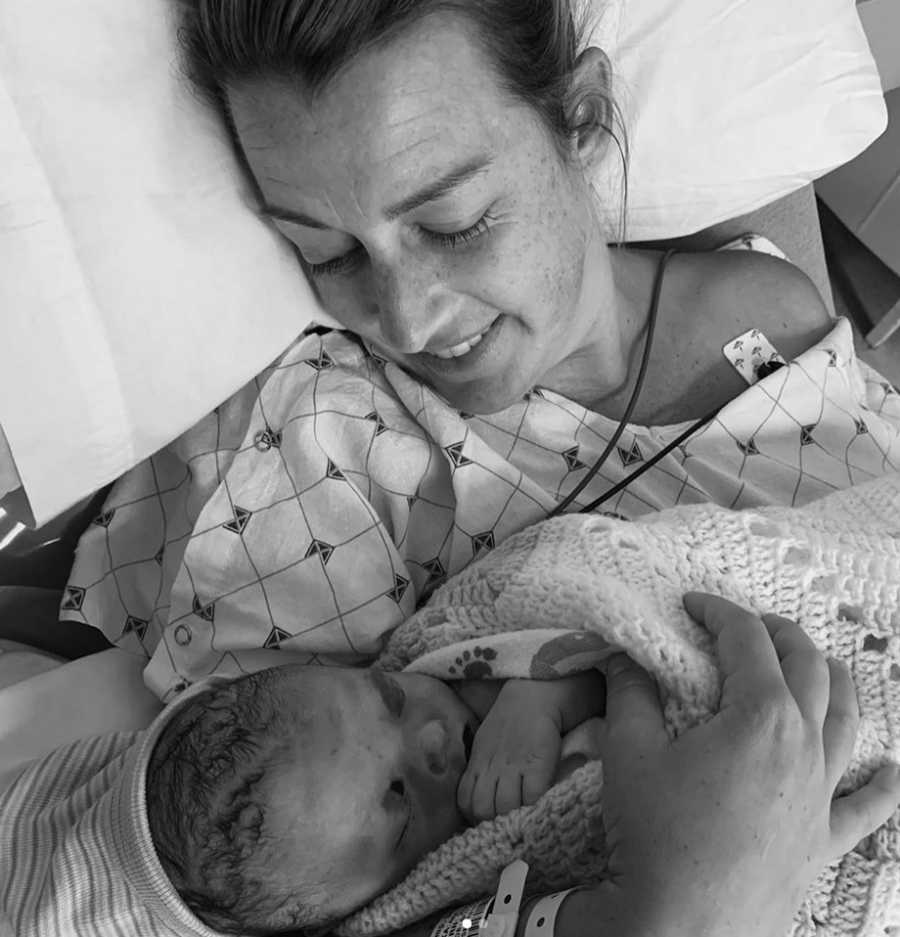 I remember that first look and the love that overcame me. It was so special, holding her, rocking her, kissing her. She is my little girl and always will be. I remember my husband dancing with her and being so gentle.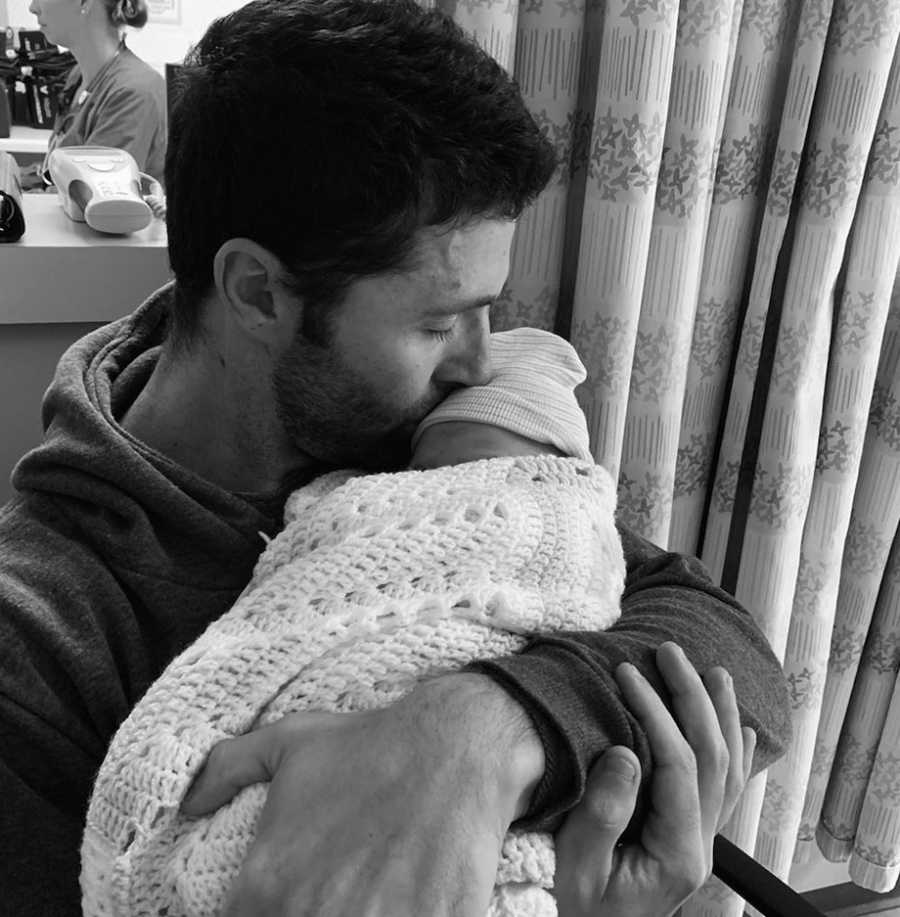 Although our time was limited, Harper will live on in our lives and memories.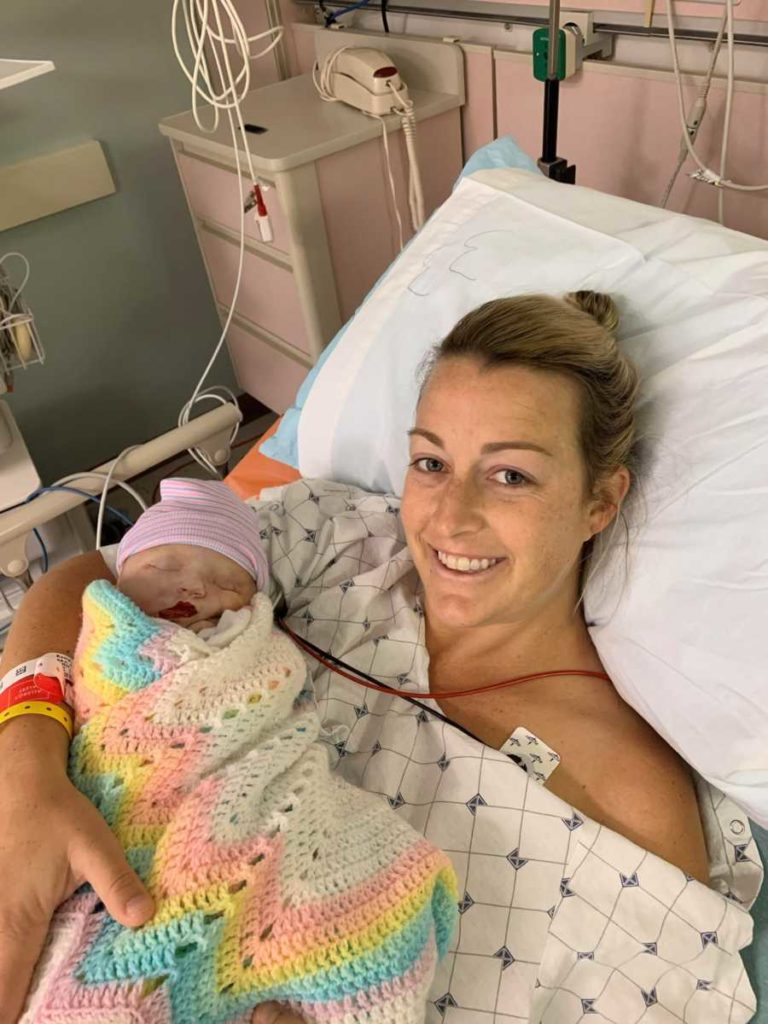 I will forever share Harper and hope to inspire others that they can create beautiful lives and memories that include their lost loved ones."