Bella Graham believes no birthday celebration is complete without the perfect cake — even if the party takes place in heaven.
The adorable 4-year-old lost her mother, Jessica, to sudden illness two years ago, and now lives with her grandmother Laura Fisher. Fisher, who is a baker, says that Bella became determined to have her bake a cake that they could then deliver to heaven, and she was certain that the post office would be up to the task.
"Bella and I talk about her mommy all the time," Fisher tells Babble. "We were talking about mommy's birthday parties when she was little and she asked if Mommy would have a birthday cake in heaven."
Her innocent question caught Fisher off guard, who told her she wasn't sure if that was possible. But the toddler was determined.
"She became persistent about Mommy having a birthday cake in heaven, so I told her we would make a cake and I would see if the post office could mail it to heaven for us."
Fisher tells Babble that she will frequently overnight wedding cake tastings and has become close with the Edgewater, Florida Post Office staff, who she describes as "always friendly." When she brought up the unusual request to an employee named Robert, Fisher says he eagerly agreed to honor little Bella's wishes.
The grandmother and granddaughter duo then got to work and made a small two-tier cake that they boxed up and addressed to "Mommy in Heaven."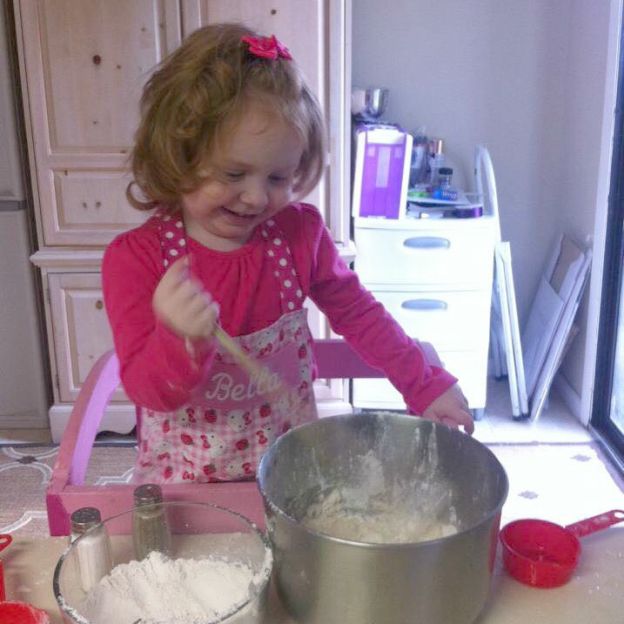 When it was time to drop off the cake, Fisher says that the post office was busy and that there was a woman who was "being really nasty to one of the clerks and was yelling at her."
"I approached another staff member who had come out of the back and explained why we were there and shortly after a clerk came out, opened up a line, and said it was for shipping to 'heaven' only," she explains.
Bella was thrilled. Fisher says that the clerk then addressed the toddler "just the same as any other customer," asking her when the package needed to arrive, printing a stamp, and then assuring her that the cake would arrive before her mommy's birthday that Saturday.
"As soon as we walked away I could see a big difference in Bella," Fisher tells Babble. "It was really weighing on her little mind, but once we the cake was mailed, she got a big smile on her face."
The event inspired Fisher to post a thank you message on a community watch Facebook page to let the Edgewater post office staff know that their kind deed was appreciated.
"Every time I go to the post office, somebody is unhappy," says Fisher. "These poor folks really do have a thankless job, so I posted a thank you to hopefully let the staff know that they are appreciated in a big way by Bella and our whole family."
It certainly puts things in perspective. We are all rushing about our day, irritated about this and that — and yet here is a young girl who just wants to get a birthday cake to her mommy in heaven, waiting patiently.