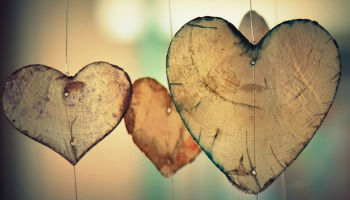 I remember the first time I saw her in person. I knew the day would come, but I wasn't prepared for it to be this day. This moment. In the throes of divorce, I had not only found myself a single mother of three, but had also uprooted myself and my kids to a new state- a necessity for getting on my feet. I had enrolled my children in a school that gave us a new community, and had created a completely fresh reality for the four us, alongside my incredibly generous and supportive parents. For a year and a half I worked tirelessly to protect this world in order to give us stability and a new family identity, and it was in this space that I would have to face her.
This place was not neutral. It was where my space, my community, and my relationships were centered. I felt like there had been a breech in my security. Like someone had dug a tunnel under the giant wall I built, and then clipped a link in the fence I put around myself, to get in. My chest was pounding upon seeing her, "How could she come into my new world? The one that I had to create as a result of her meddling in my life?" I saw her sitting alone and that's when I walked over to her seat, knelt down in front of her, and properly introduced myself.
When I think back on that initial meeting, I can recall it being the first time I saw her as human. It's easy to vilify someone when you aren't face to face. She was young, doe-eyed, and seemingly insecure during our quick exchange. In many senses, at that moment, she was just a girl who had gotten caught in the predicament of supporting her boyfriend by attending an event she would inevitably be uncomfortable at, or making him go alone risking his disappointment and frustration. Her position wasn't exactly one I was unfamiliar with. The awareness of her humanity led me to a second thought that struck me: she only came because she was invited by my ex-husband; the common thread between all of us and our uncomfortable intertwining. That experience was profound for me. A defining moment in my processing of what had happened in the prior year and a half, and a catalyst in shaping my thoughts for the future.
If you have been cheated on, especially in the context of a relationship/marriage with kids involved, you know firsthand how debilitating it can be to get the news that there has been infidelity. When significant boundaries in that vein are crossed we begin to assign blame, and it feels most intuitive to point the finger at the other woman, casting her as the villain. But amplifying the other woman's role in the affair thwarts the responsibility of the one who is actually most accountable between the two… your partner.
In my reflection after meeting the other woman for the first time, and in the months that followed, I discovered a few truths that have helped me stay grounded and have kept my mind in check….
1) It's Mostly Not Her Fault

When in a committed relationship, the liability for its health is in the hands of the two in the relationship. Though the other woman is certainly not going to get morality points for her involvement, it's important to recognize that she wasn't the one devoted to you- your partner was. Therefore between the other woman and your partner, your partner carries the vast majority of the responsibility for the infidelity. Demonizing her is very simple to do, but it shouldn't be the focal point of your anger because it masks the real problem- that your partner wasn't protecting your relationship.
Another facet to this is that when a relationship is built on deceit and a measure of secrecy, as many affairs are, there's no way of knowing what information was shared with the other woman about you and your partner. The likelihood is high that there was a manipulated and misrepresented picture painted about the status of your relationship, allowing the other woman to give herself permission to engage with your partner. Accepting that is also an important layer of realizing that her part in the matter was far less than your partner's role.
2) Even She Deserves Better
I wish women who found themselves in a position where they are the other woman, would recognize that they are worth more than becoming a shiny object taking someone away from their own life and responsibilities. Any woman, no matter what, is worthy of having her dignity respected enough to not be used as the reason to leave someone else. Even the other woman should be loved on her own merit, without wondering if the only reason a man is with her is because he wanted out of something else.
The truth is if a man is willing to leave his family and community behind for another woman (the highest stakes, in my opinion), he's likely to consider leaving for less in this new relationship, creating insecurity in its DNA. When a relationship begins with blurred lines, that underlying story is always the very foundation.
3) Your Relationship with Her Matters

If you have kids involved in the mess of infidelity, and your former partner remains in a relationship with the other woman, your kids are going to know her in some capacity. This can be one of the most painful realities of divorce. It can feel like salt in the wound of betrayal that the woman who had a hand in your marriage ending now gets to know your children. The process of cultivating a working relationship with her is not easy, or even something that is desirable, but it is important (something I'm personally working slowly to do). Your relationship with her matters for the sake of your kids. Exerting effort to maintain decency and general kindness between the two of you will help your children feel secure in the new arrangements they now exist in. If the goal is to have well-adjusted children who feel cared for in both the home of their mother and father, the healthiest possible relationships among all adults is essential, and that includes a relationship with the other woman.
Unfaithfulness in a relationship is devastating. It re-frames your entire sense of reality. It's by far been one of the most excruciating experiences of my life. It's taught me though, that I can be hurt and angry, while still honoring someone's personhood. This road of "treating the other woman with decency" is long, and will most definitely continue to include bumps and bruises along the way, but I've had to consistently remind myself that my motivation to humanize her isn't to minimize or excuse her role in the chaos she had a hand in, it's simply to help me not carry the burden of bitterness…which is far heavier, and takes much more from me than infidelity did.