This story is not for meant for people to judge us or take pity on us. It is written in hopes to find any one that may learn from it. Anyone that has small children or knows someone with small children. This story could save a life. It could save someone else from the same pain and suffering Winston has had to endure. Something as simple as checking your hot water temperature can prevent something so serious. Please spread the word to all!
December 18, 2013 will be a day I will never forget; a day that will affect my son forever.
It started out as any ordinary day. The two girls were off to school and Winston and I had a lot planned that day. There were several things going on that winter. Our home was under construction and John (my husband) had been home working on the addition. We also had some issues with the furnace not working. Thank goodness John had placed a radiant heat system in our home when we built it. That was our heat source for the time being in our below freezing Nebraska temperatures.
"John our water is too hot," I said just the night before as I had said many times before. Like so many other families, the hot water temperature was not set at the correct setting, which is 120 degrees. Also a radiant heat system uses water as a source of heat.
Little did I know my day was about to turn tragic.
Winston had been sitting up for quite some time now and was very stable. I had been putting him in a shallow bath without problems. He loved to play in the bath, as most kids do. Today I thought I would save time and put him in my bathroom bathtub while I got ready. My bathroom counter is two steps away, what harm could there be in that?
The whirlpool tub in the master bathroom has an oblong waterfall faucet that forces out several gallons per minute. The faucet has one knob for hot water, one knob for cold water. He was splashing around having a good time, laughing. I was getting ready to put in my contacts (blind as a bat without them) and I heard the water come on.
It was like one of those nightmares when you can't move or speak, but bad things are happening around you.
It seemed as if I were moving in slow motion but everything around me was happening so fast. From that point on my life went in to slow motion. From those very seconds, and still with every day today.
I turned to look and I see him drinking the water out of the faucet. And in my head I am thinking "it must be the cold water if he is drinking it." I couldn't really see because I didn't have on my glasses. I pushed Winston to the side and touched the water with my hand. My hand instantly jerked back with a reddened area on it caused by the extreme temperature of the water. I picked up my son and brought him close to me.
His skin was peeling off of him; all over his body.
I yelled "NO! No this isn't happening! NO! I grabbed a towel and wrapped him and ran to the window. John was working on the addition that day and was right outside the window. It took John a minute to realize that I was crying and and trying to yell through the window. "We need to go to the ER now!"
We are 15 miles away from any emergency room; a small town or a smaller town. The closest burn unit is over a two hour drive from our house. We opted to go to Franklin. A fast decision that I think was assumed between the two of us. A good decision in hindsight because it was such a comfort to have the people we know taking care of us.
The doctor said "40% of his body has been burned."
With my nursing background I knew that 40% on a fragile baby could be life threatening. Right away the doctor called for a helicopter to fly Winston to the nearest burn unit; which was in Lincoln, Nebraska. Minutes felt like hours. It was taking forever for them to respond. John and I were not going to be able to ride with Winston in the helicopter because of the size. We had to send our son alone.
We were trying to make a rational decision on how we were going to get to Lincoln. Of course in a small town, news travels faster that news happens. My father- in-law, my husband's grandparents and aunt and uncle were outside the room standing in the hallway. John's dad had made a phone call. My father-in-law and John had acquired a relationship with the owners of an ariel service through farming and flying lessons; they were available to fly us to Lincoln if we wanted. We said good bye to Winston as they strapped him onto a gurney and put him into the helicopter. He was screaming and bawling the entire time. We "flew" (in our suburban) another 30 miles to the airfield. There was a plane already to go and pilot waiting. The flight to Lincoln was short in real time but forever in my mind. Once again an example of time in slow motion.
We arrived at the Lincoln airport minutes before the helicopter reached the hospital. When we arrived a St. Elizabeth's Regional Center, there was no one to talk to; everything was taking forever! After about an hour we found someone, Eric was his name.
"He is in surgery, the doctor will be out to speak with you soon."
"What? We can't see him?"
I was in such a state of anger and fear and so many other emotions. The doctor came in to the waiting room to speak to us. He explained that Winston was getting finished up in the surgery room with the porcine (a pig skin wrap). Of course he needed to know how Winston was burned. He needed to contact social services per protocol. I explained how it all happened, attempting to hold back tears as I am talking to this very intimidating man. He went on to explain that it takes several minutes under hot water for a burn like this to happen; insinuating that he was under hot water for a very long time and where was I?
I was already feeling like the worst mother of the year, but at that moment, I was at my worst. I was at my lowest point.
And then defensive. Did he know how much water pressure was coming out at once? Did he know that our water was extremely hot? Did he know anything about us? Here I am in loose sweats and a baggy t-shirt and John with sawdust all over in his hair and dirty work clothes on. What was his impression of us? Did he think we were irresponsible parents? Maybe we were. Maybe the worst. At least that was how I was feeling at that very moment. Everything else that doctor said to us was a blur. I just wanted to see my son. I just wanted to hold him.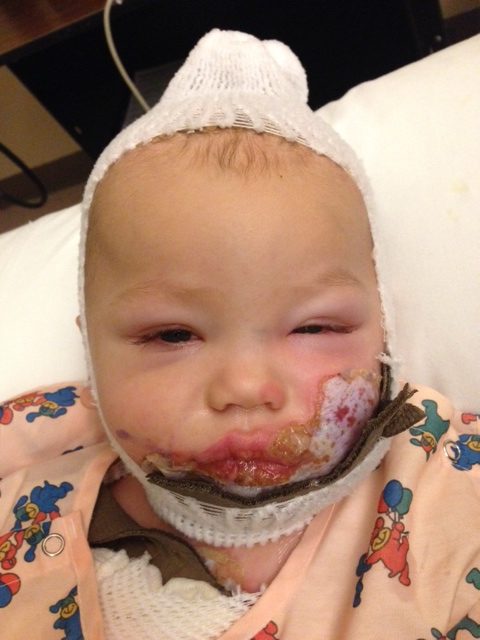 He told us that he was worried that our son was so calm during the entire process; and usually less pain meant third degree burns. He went on to say that the burns only looked second degree in most places so the porcine was applied to all the burns, but it would not hold to any areas that were third degree burns. We would only know more in time. Time, more time.
Finally after waiting in the waiting area for over an hour we were able to go back to the Burn unit's ICU. There in the room were two nurses. A female nurse introduced us to the room and a male nurse was sitting in the chair cuddling and rocking my baby. Winston was now completely wrapped in dressings, laying on the nurses chest asleep. I felt warmth when we entered that room; warm hearts from those nurses. I knew they cared from the very second we entered. They were not there to judge me or John as parents, they were not asking questions about what happened. They were just there to do their best to comfort Winston and us.
They asked us right away, "how are you guys holding up?" I knew we were in good hands. When he handed Winston to me everything played through my mind again as it had been over and over for the last several hours, wishing I could turn back time and do things differently. I looked at his face covered in dressings, It was so swollen. I was heart broken. How could I let something like this happen? How could I be such an awful parent to turn my back on a baby in the tub. What was I thinking? Our nurse was there to comfort us though.
I remember saying to John, "it would be so easy for you to be mad at me and blame me for all of this. How are you not blaming me and saying what were you thinking Sara!" He responded "What good is it going to do to be mad at you, accidents happen, that's why they call them accidents" and he put his arms around me as I cried.
We have a long battle to fight with this. It is easy for people to forget and think that it is all over for us but it isn't. It's a battle everyday. I spend several minutes 4-6 times a day massaging his scars hoping to reduce them and hoping this will help with the irritation. There is a possibility that Winston may need skin grafting during his growth spurts usually around ages 11 and 15. I pray that this vest we are getting will reduce the scarring enough that future skin grafting will not be necessary. I pray to God every day that Winston will get better and all of this will be behind us.