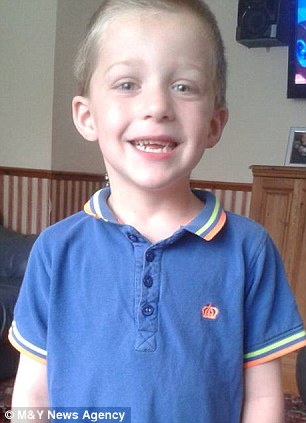 Jack Robinson, 4, sadly passed away on April 1st after losing his battle against an inoperable brain tumour.
It's never a good thing when a child this young has a bucket list, but his family were determined to fulfill it. Meeting Gary Barlow and Matt Smith was ticked off.
But the four-year-old's final 'unique' wish could only be fulfilled yesterday, when his family and friends said goodbye to him at his Star Wars themed funeral.
His parents Terence and Marie Robinson were determined to celebrate their son's life and passions, having his body carried in a Star Wars coffin on a white horse-drawn carriage surrounded by stormtroopers.
Last goodbye: The family and friends of Jack Robinson walk behind his Star Wars coffin, which was guarded by stormtroopers as it was walked to his funeral in Hampshire