TWO sisters were savagely beaten up and held hostage by two men they met on Facebook.
Police are attempting to track down the thugs who left Amy (21) and Nicole Rice (19), from Dublin, Ireland, battered and bruised.
The sisters told the Herald they were speaking of their nightmare as a warning to other Facebook users to be extremely cautious about meeting people after first communicating online with them.
The pair agreed to meet with two men who they initially spoke to through Facebook almost three weeks ago.
Amy said the pair seemed nice, and they arranged to travel to Newbridge, Co Kildare for a drink last Thursday night. They met the two men, aged 25 and 30, at a bus stop and were brought to an apartment in Newbridge town centre shortly after 7.30pm.
Soon after, Amy said one of the men, who is originally from Crumlin, started "acting weird".
"His demeanour changed and he started talking about how he had been in jail before," she said.
"They started to get aggressive, and my sister got up to leave at about 8pm. One of them pulled her hair, pushed her to the ground and started kicking her in the head."
The brave young woman attempted to intervene to save her younger sister but the other man started to pummel her in a frenzied attack.
"They tied us up with rags and put them on our mouths and just kept laughing and laughing as they beat us up," Amy said.
The sisters say the men worked themselves into a frenzy and asked them to ring "someone with money to pay a ransom" which would set them free.
But when the sisters said they didn't have any money in their family, they were beaten further.
"They thought it was hilarious, they started ringing this woman and had her on loudspeaker and she kept saying 'let me hear them scream'.
"Nicole made a run to the corridor outside and fell on the stairs trying to get away and passed out at the bottom.
"They thought she was dead and started ringing people on the phone and saying they needed to dig holes in the Wicklow mountains as they didn't know what to do with these girls."
Amy says the last thing she remembered was her sister's body lying at the bottom of the stairs before she blacked out during another beating.
"I was so scared," said brave Amy. "I thought we were going to die, I was full sure they were going to kill us."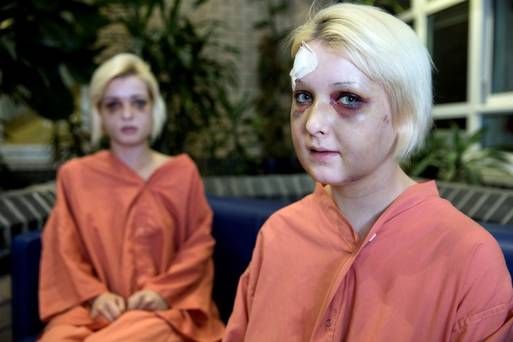 Nicole woke up hours later in bed beside her sister. She said as she was not tied up she tried to untie her sister but the men, who were sleeping beside them, woke and the assaults started again.
"This was at about 6am (Friday morning)," Nicole said.
"They started lining us up against the wall and taking pictures and sending to friends what they had done to us. They were really proud of it.
"They eventually let us go at about 3pm in the afternoon and said if we went to the police they would kill us and our family.
"They had rung people and found out information about us – they knew our dad was in hospital and everything."
Covered in blood, the sisters ran out of the apartment and a man, driving by with two children, stopped and took them straight to hospital.
The sisters said they were still receiving threats from the men in hospital on Friday. The pair have undergone a number of tests and scans and they believe they may have been drugged on the night of their ordeal.
Amy suffered a suspected fractured jaw. She is being treated for possible sexual assault. Nicole received a broken nose. Both siblings suffered severe head and facial injuries.
"We are doing this to let everybody know about it and warn them to be careful on Facebook and meeting people that you don't know," Amy said.
"They seemed like really nice guys but look at what happened us."
Police investigations are continuing.