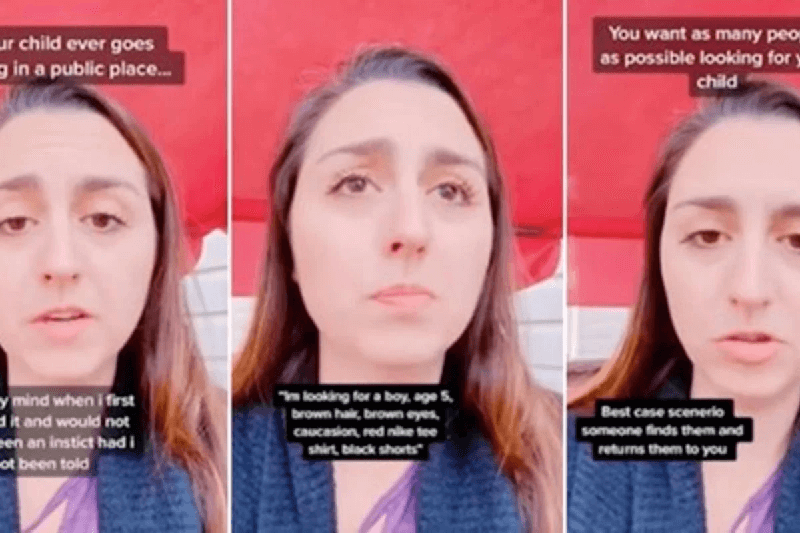 A woman in New Zealand recently lost her son at a Kmart, but was able to locate him thanks to a potentially life-saving parenting hack she spotted on TikTok a few months ago.
The woman was shopping at the store when she realized her two-year-old son, Nathan, was missing. She immediately told a friend to alert staff to make sure she didn't go out the store's main exit.
The mother wrote in a Facebook post :
"Another friend searched the area where he was last seen,"
It was the "scariest 10 minutes of my life," she later wrote.
But then she remembered a parenting hack she saw on TikTok from blogger Jess Martini :
"If your child goes missing, screw the stares and start calling out their description,"
"I am missing a little boy, he is wearing a yellow t-shirt and has brown hair. He is two years old and his name is Nathan!" she called out to the rest of the store as she reminded herself not to "break down" in tears.
"You need people to understand you loud and clear," she said.
The mother's calls immediately delegated everyone who heard them to start looking for the child. It was like multiplying the search by a factor of 10. "I turned down a hallway and heard 'He's here!'" she wrote. "I turned back the way I came and there he was. A man had walked past him after hearing me call."
She immediately thanked the man, realizing that if she hadn't called, he might never have known the boy was missing. "Nate would have walked past him and not batted an eyelid," she said.
In November, parenting blogger Jess Martini posted a video in which she shares the best way for parents to locate a missing child. It's great advice because the instinctive response is usually to just yell her name or run silently watching.
"To all parents, if your child goes missing, don't search silently or just yell their name," Martini says in the video. "Scream loud and clear. Say missing, give a description and repeat, repeat, repeat!"
"Everyone will be on alert, and if someone is trying to run off with your child, it will lessen the chances of them escaping," she added.