Spicy Mexican Rice Pie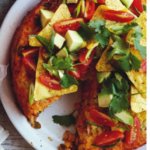 Ingredient
½ quantity Chicken and lemon risotto
310g can corn kernels, drained
375g jar medium thick 'n' chunky tomato salsa
2 tablespoons finely chopped fresh coriander
3 eggs, lightly beaten
½ cup grated cheddar
200g grape tomatoes, quartered
1 avocado, cut into 1cm pieces
1 green onion, thinly sliced
1 tablespoon lime juice
¼ x 200g packet corn chips, lightly crushed
Extra fresh coriander leaves, to serve
 Recipe
Preheat oven to 190°C/170°C fan-forced. Place a baking tray in oven. Grease a 6cm-deep, 24cm round springform pan. Line base and sides with baking paper.
Place risotto, corn, salsa, coriander and egg in a bowl. Season with salt and pepper. Stir until just combined. Spoon mixture into prepared pan. Using the back of a spoon, press rice mixture to compact. Sprinkle with cheese. Bake for 50 minutes or until set and crisp around the edges. Stand in pan for 10 minutes. Carefully remove pie from pan and place on a plate.
Meanwhile, combine tomato, avocado, onion and lime juice in a bowl. Season with salt and pepper.
Top pie with avocado mixture, corn chips and coriander. Serve.
Nutrition: (per serve) 2496kJ; 24.4g fat; 10.5g sat fat; 31.4g protein; 58.4g carbs; 5.3g fibre; 161mg chol; 1123mg sodium.