After sweeping the board at the 2023 Movieguide Awards, actress and director Candace Cameron Bure "Full House" has a lot to be pleased with.
Candace Cameron Bure wins big at the 2023 Movieguide Awards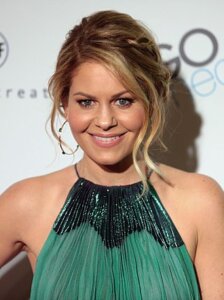 Bure won the Grace Award for "Most Inspired Performance" for her role as Maggie Larson in the film "A Christmas…Present," which she also executive produced. The film also received "Epiphany Prize" consideration.
The script for "A Christmas…Present" was written by Rick Garman, and Lesley Demetriades was in charge of production. First collaboration between Bure and Great American Family, "A Christmas…Present" was conceived and developed through her Candy Rock Entertainment venture.
Bure shared a new photo to her Instagram account: "Tonight, was a really good night, I took home two awards. I was shocked and I am on Cloud 9, and I feel very humbled and grateful. I am more grateful than most people would understand,"
"I really feel honored to be recognized, and I am so proud of my company too, this is our first movie out of the gate," she added.
Lesley Demetriades, who directed the piece, made a social media comment: "Thank you to the cast and crew for creating such a special movie,"
Bure expressed gratitude to Demetriades for her leadership and direction: "Lesley, thank you for leading us in this beautiful movie. A huge congratulations to us all. What a blessing,"