Emily Ratajkowski's career as a model continues to flourish, and this year she landed yet another major advertising campaign.
Topless Emily Ratajkowski models for Marc Jacobs' 'genderless' collection
Emily Ratajkowski is the face of Marc Jacobs' spring collection.
The 31-year-old New Yorker, who has previously modelled for DKNY and Versace, was spotted in a studio, posing with the ivory garments and accessories.
And in one, the mother-of-one posed braless while holding a pocketbook and smoldering for the camera in gorgeous plum tones.
In a press release, the Marc Jacobs Monogram Series is described as "genderless."
Ratajkowski, who has been romantically linked to Harry Styles this month, debuted in the Spring 2016 Runway show for Marc Jacobs.
According to a press release issued on Tuesday, she has become a longtime collaborator and friend of the house.
The Monogram campaign, shot by Harley Weir and styled by Danielle Emerson, will debut this month digitally and on billboards.
The Marc Jacobs Monogram print, first seen on Marc's Fall 2021 runway, returns for the Spring season across a full range of ready-to-wear and accessories.
Emily posted photos of herself on her Instagram page on Tuesday, where she was standing in front of the advertisements that were plastered on a green NYC wall.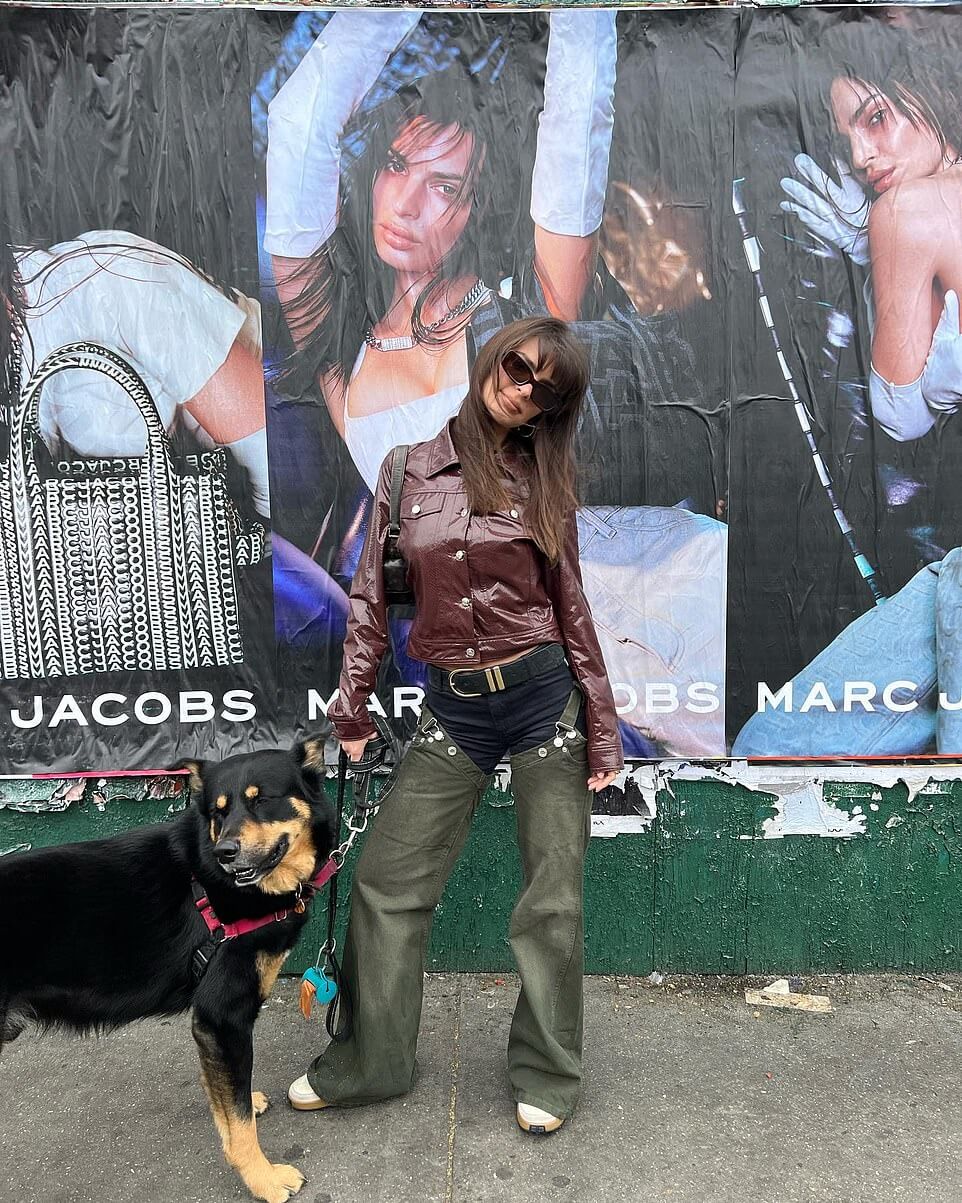 Emily was dressed in a brown leather jacket with silver buttons, dark jeans, and olive green chaps with a wide leg.
The runway model completed the look with partially covered white sneakers.
Her hair was down, and she wore black sunglasses that matched the petite black purse she wore over her shoulder.
In one photograph, she struck a sexy pose with her bottom out, puckering up for the camera.
The post's star, however, was her brown and black dog Colombo, who was dressed in a red and black harness.
'@marcjacobs SS23 by @harleyweir (swipe to see Colombo).' was her caption.