The Warriors and the Blazers, Pistons, and Hawks have until 6:30pm (PT) to decide whether or not to move forward with the four-team trade.
This is the biggest sign so far that the Golden State Warriors will complete Payton-Wiseman trade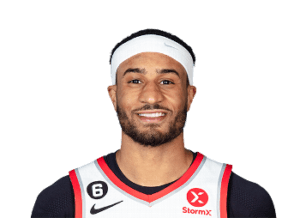 The trade occurred late Thursday night, but the Warriors have since learned that Gary Payton II will be out for up to three months due to a lingering abdominal injury for which he underwent surgery in the offseason.
If Gary Payton II is on the bench for the Golden State Warriors on Sunday, that's the best sign that the trade will be finalized.
While no one from the Warriors organization has addressed the media about the rumored trade, it appears that the team is ready to move forward with the deal.
On Friday, a video showed Payton in the locker room; on Saturday, he was spotted sitting on the bench during Golden State's 109-103 loss to the Los Angeles Lakers, still wearing team apparel.
GP2 is sitting next to Bob Myers and Mike Dunleavy Jr. 👀 pic.twitter.com/OvWj6lEU1C

— Warriors on NBCS (@NBCSWarriors) February 12, 2023
As ESPN's Bobby Marks has confirmed, the Warriors are stuck with the trade terms as they were originally agreed upon.
There had been talk that the defending champions, the Golden State Warriors, could negotiate to get some of the second-round picks they originally received from the Atlanta Hawks back.
Though Marks acknowledges the league could pursue the matter further, he anticipates it will take some time.
"The NBA sent each team a memo last week stating that all medical information must be disclosed at the time of the trade. The league can certainly lodge an investigation on behalf of Golden St. but that could take weeks/months, not likely 24 hours."
The latest report by Chris Haynes includes a statement from Payton's agent, further complicating matters: "Despite of what's being reported, my client never took Toradol shots to be available for games during his time in Portland."
Although the situation as a whole has been chaotic and will continue to develop for some time, the trade itself should be finalized by the end of the day, making Payton a Warrior once again.