Rihanna's halftime show at the Super Bowl has taken weeks of planning and preparation.
Super Bowl's halftime show will feature Rihanna's first live performance in years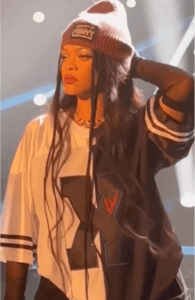 The Philadelphia Eagles will face the Kansas City Chiefs at State Farm Stadium in Glendale, Arizona at the biggest event on the American sporting calendar, and the Barbadian singer will likely be joined by a slew of surprise guests.
Rihanna claimed that up to 400 people were involved in the making of the concert and that nearly 40 different versions of the setlist were developed.
The performer admitted at the Apple Music pre-game press conference that she had been so preoccupied with the show that she had forgotten about her birthday and Valentine's Day.
"It's literally like 300 to 400 people breaking the stage down and building it back up and getting it out in eight minutes. It's incredible. It's almost impossible," she said.
Rihanna, who gave birth to her first child last year, said the "immense for many reasons" physical preparation and training for the show.
"You're just running around for 13 minutes trying to put a two-hour set into 13 minutes, and… from the time it starts it just never ends until it's the very last second. It takes a toll on your body,"
As of the Thursday before the show, Rihanna had written 39 different sets of songs she wanted to perform. She called this the "biggest challenge" she faced in preparation for the show.
"That was the hardest part. Deciding how to maximise 13 minutes but also celebrate it," she said.
"That's what the show is going to be, it's going to be a celebration of my catalogue in the best way that we could have put it together.
"You only have 13 minutes, that's the challenge, so you're trying to cram 17 years of work into 13 minutes so it's difficult – we know some songs that you have to lose because of that.
"But I think we did a pretty good job at narrowing it down."
She continued by saying that a new setlist had been made due to even the most minute of adjustments, such as the removal of an instrumental break.
However, Rihanna insisted on having a hand in everything, whether the show "flops or flies."
"My name has to stand by that, and so I really get involved with every aspect of anything that I do, whether it's a Super Bowl, whether it's a makeup product, whether it's Savage lingerie – whatever I do," she said.
"I'm that annoying girl who's going to talk about everything. I want to see the copy on the website, I wanted to name every lipstick that I made.
"I care about it and love it. I really do."
The singer has also expressed that she is proud to showcase Barbados to the world and that her performance is "important" for representation.
"Representing for immigrants, representing for my country Barbados, representing for black women everywhere… I just think that's really important, (it's) key for people to see the possibilities, and I'm honoured to be doing this," she said.
"It's a long way from home. It's a beautiful journey that I'm on, and I could have never guessed that I would have made it here.
"So it's a celebration of that. I'm excited to do that and I'm really excited to have Barbados on the Super Bowl."
In September of last year, the NFL made the announcement that Rihanna would be performing at the halftime show by having the singer post a photo of her hand holding an American football online.
She then released a suspenseful teaser video in which she muffled conversations about her comeback to the music industry.
In the 30-second clip, the pop star was shown wearing a luxurious yellow shawl and heavy silver chains around her neck while being illuminated by a bright white spotlight.
Following the lead of former NFL player Colin Kaepernick, who gained international attention by kneeling in protest against racial injustice in the United States, Rihanna decided not to perform at this year's Super Bowl half-time show.
The concert is happening just over seven years after her last studio album, 2016's Anti, was released. Since then, her fans have been demanding new music.