Rihanna was asked to sing at the Super Bowl in 2019, but she said no to show her support for Colin Kaepernick, who used to play quarterback for the San Francisco 49ers.
NFL fans didn't think Rihanna would ever perform at Super Bowl 2023 halftime show because she had turned down the chance in the past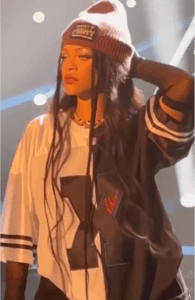 The 34-year-old singer was offered the chance to perform at a massive concert in February 2019, but she declined.
Rihanna said she wanted to show her support for former 49ers quarterback Colin Kaepernick without being a "sellout."
Kaepernick first took a knee during the playing of the national anthem in 2016 to express his displeasure with police brutality against African-Americans.
As the movement grew, more and more participants joined in; however, it was met with opposition from some quarters, including former President Donald Trump.
Kaepernick became a free agent after the season ended and has yet to be signed by an NFL team. Trump has said that NFL owners should "fire" players who protest during the national anthem.
Rihanna, one of Kaepernick's vocal supporters, decided to protest the NFL by skipping a performance.
She gave an interview to Vogue in which she explained her choice: "I couldn't dare do that. Who gains from that? Not my people. I just couldn't be a sellout."
"I couldn't be an enabler. There's things within that organization that I do not agree with at all, and I was not about to go and be of service to them in any way."
Cardi B and Pink, in support of Kaepernick, reportedly turned down offers to perform at the NFL's Atlanta event.
Maroon 5, Travis Scott, and Big Boi ended up headlining it, but they faced criticism for "the NFL's refusal to acknowledge" the incident.
The NFL skipped their press conference the week leading up to their show, citing a desire to "let the show do the talking."
The sudden about-face by Rihanna to perform at Super Bowl LVII 2023 has caught many people off guard.
No real progress has been made toward social justice in the NFL, and some would argue that the situation is even worse now, after George Floyd's murder in 2020.
After a seven-year break from the music business, this will be Rihanna's first solo concert in that time.
Her last album was 2016's January's Anti, and her last live performance was 2018's 'Wild Thoughts' with DJ Khaled at the Grammys.
Rihanna has stated she will be using her halftime performance to represent black people everywhere and to teach her son a valuable lesson.
She said this in an interview at the Super Bowl press conference for Apple Music: "To go on the biggest stage in seven years, there's something thrilling about the challenge of it all. It's important for the representation and it's important for my son to see that.
"That's a big part of why I want to do this show, representing for my country, representing for immigrants, representing for black people. That's a big part of why I wanted to do it."