This was the 34-year-old Barbadian singer's first live show in seven years, since she hasn't put out an album since 2016.
Rihanna did the Super Bowl halftime show from a platform in the air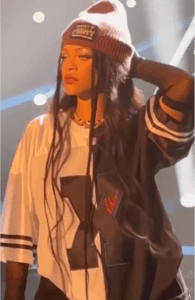 On Sunday, Rihanna, dressed in all red and showing off her baby bump, got the crowd going by performing some of her most popular songs. These included B-tch Better Have My Money, Where Have You Been, Rude Boy, Umbrella, All the Lights, and Only Girl (In The World).
Rihanna began her performance atop a floating platform high above the field and ended it by performing on a stage that ran almost the entire length of the field. Her dancers, who performed alongside her in white, voluminous space suits, looked fantastic throughout the entire show. It appeared that, at the outset of her performance, she rubbed her stomach.
A$AP Rihanna's boyfriend and father of her nine-month-old son, Rocky, was caught on camera applauding his leading lady.
Shakira used Twitter to wish Rihanna luck before the 2023 Super Bowl Halftime Show.
For their 2014 smash hit, Can't Remember to Forget You, Rihanna and Shakira teamed up. In 2020, Shakira and Jennifer Lopez performed the first all-Latin performance at the Super Bowl halftime show.
Shakira wrote alongside a photo of herself and Rihanna, "Remembering good times and wishing you the best vibes for tonight's show, Rih!"
Also, Katy Perry tweeted her admiration for Rihanna, saying: "Sending you all the love. You got this @rihanna."