A young mother admits that she bathes her baby in bleach twice a day. Before you judge her, perhaps you should take a moment to understand why she does this.
Baby Amelia appears is like so many other babies in many ways, but her mother's description of skin like a snake" is quite fitting. Unfortunately, Amelia has been diagnosed with an incredibly rare skin disorder called lamellar ichthyosis. From the moment she was born, her parents knew that something wasn't quite right.\
At first sight of her daughter, mother Raven Ford said,
"She looked like a little plastic doll. She had this build-up of really thick skin, which looked very tight and shiny."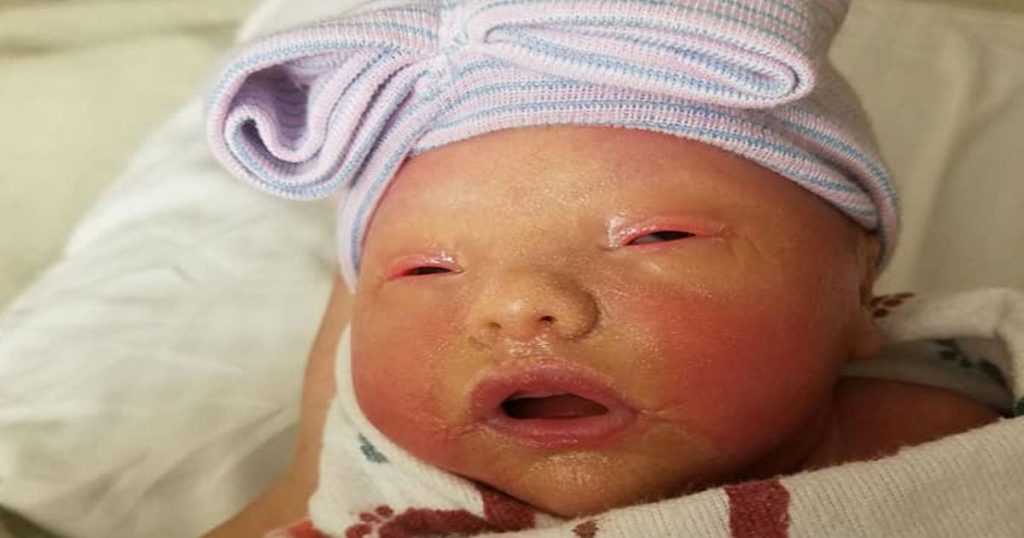 Because the condition is so rare, medical professionals weren't exactly sure what was wrong with the child. However, after consulting with specialists at the University of Minnesota, they were able to make an initial diagnosis. Unfortunately, they couldn't tell right away the exact type of ichthyosis Amelia has. Various types of the disease can vary significantly in severity.
According to National Organization of Rare Disorders, lamellar ichthyosis is explained as being a skin condition in which the cells are produced at a normal rate, but they don't separate normally which makes it impossible for the skin to shed properly. Of course, the obvious sign of this is dark, dry skin, but it babies with this condition can also experience difficulty with temperature regulation, water loss, secondary infections, and systemic infections.
In the case of Amelia, it appears that much of the symptoms are focused on the dry, cracking skin. In fact, for the first ten days of her life, she had to remain in the hospital with the round-the-clock care of creams and ointment application to help reduce cracking and bleeding. However, the care didn't stop there. In addition to regular check-ups with the University of Minnesota to monitor Amelia's condition, but they must also continue to apply petroleum jelly around her eyes and mouth and use ointments and steroid creams to keep the cracking to a minimum.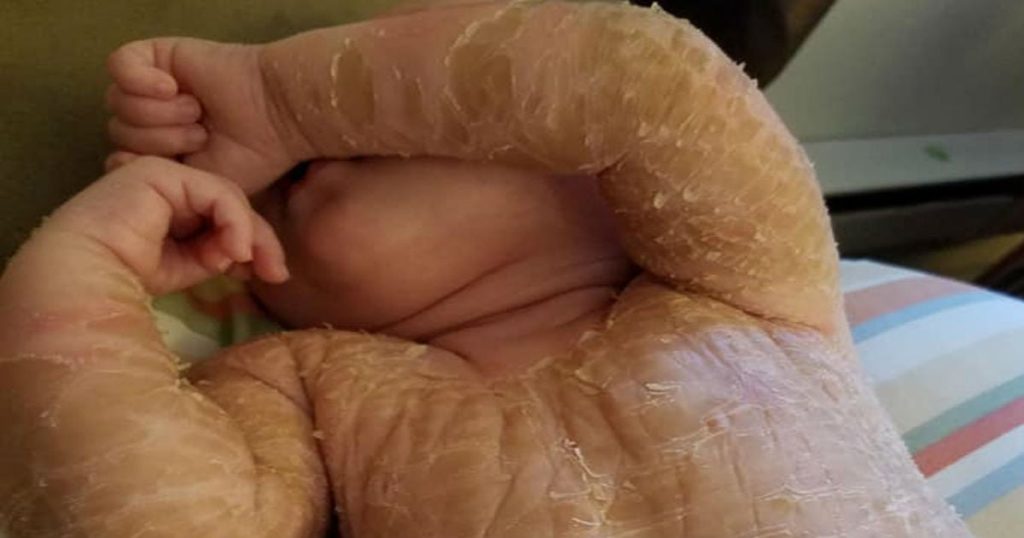 Raven explains the importance of the bleach baths,
"Because Amelia can't use soap, I put two tablespoons of bleach in her bath water every other day. If we don't do this, she can get infections or pockets of oil, which show up like yellow bumps on her scalp."
For people who are not familiar with the disease, this can seem very bizarre, however; it is the one thing that helps ensure that her skin remains as clean as possible at all times. Bleach cleansing is recommended by dermatologist and doing so helps Amelia avoid pockets of oil or painful infections.
Unfortunately, Raven has experienced a considerable amount of judgment from passersby who don't understand that Amelia has a skin condition. People have assumed Amelia has a severe sunburn and some people even warn Raven about having other children in case they may be born with the same condition. However, Raven is committed to helping people understand lamellar ichthyosis and encourages strangers to be kinder when they may not have the full picture.
She says,
"I'd really like people to stop judging things they think are out of the ordinary – especially parenting choices. Everyone has their own reasons – don't assume it's all down to bad parenting."
This is a good message that we should all remember. You never know what someone else is going through.
Please SHARE this with your friends and family.