Nier: Automata Ver1.1a is getting ready to return from hiatus, and the series has finally announced a release date for new episodes after the anime's debut was unexpectedly delayed a few weeks ago.
Date Announced for Nier: Automata's Reboot Episodes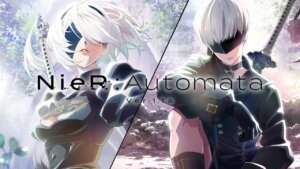 The first three episodes of the new anime adapting the wildly popular Square Enix video game series premiered as planned, but afterward it was announced that subsequent episodes would be delayed indefinitely due to the effects of the ongoing COVID-19 pandemic.
Yoko Taro, the franchise's creator, later confirmed the news to fans in a message that Nier: Automata Ver1.1a would return with new episodes sooner than expected.
The anime's official Twitter has confirmed that the fourth episode will air on February 18th, marking the return of the regularly scheduled programming.
Although the anime has been on hiatus since January 28th, the wait for the next batch of episodes hasn't been too long, especially in light of the fact that it could have been much longer:
【来週第4話放送】
Chapter.3:break ti[M]eをご覧いただいた皆様、ありがとうございました。

来週2月18日はChapter.4が放送となります。
Chapter.4 will be broadcast on TV next week.https://t.co/Dovt7K3qB2#ニーア #NieR #ニーアオートマタ pic.twitter.com/6CjIAeqLFb

— TVアニメ『NieR:Automata』(ニーア オートマタ) (@NieR_A_ANIME) February 11, 2023
Where to Find the New Anime Episodes of Nier: Automata
Now that Nier: Automata Ver1.1a has returned with new episodes, most of which will run until the end of the series, you can finally catch up before the next season begins!
The first three episodes of the Nier: Automata anime are now available to stream on Crunchyroll for those who would like to get started with the series just as it returns with new episodes overseas. The anime's previews hint at the following changes to the familiar formula:
"The distant future, 5012. The sudden aerial invasion of Earth by and their creations led mankind to the brink of extinction. The surviving number of humans who took refuge on the moon to organize a counterattack using soldiers to recapture Earth. However, the war reaches a stalemate as the continue to multiply infinitely. In turn, humanity deploys a new unit of android soldiers as an ultimate weapon: YoRHa. Newly dispatched to Earth 2B joins 9S, the analyst currently stationed there, where amid their mission, they encounter a myriad of mysterious phenomena… This is the story of these lifeless and their endless fight for the sake of mankind."