When Erin Bates was born she was only 5lbs 4oz and required open-heart surgery.
She had problems with her windpipe and required months of treatment but doctors told her parents their little fighter had a good chance of recovery.
Now her parents have announced the heartbreaking news that little Erin has contracted coronavirus and is currently on an oxygen machine in a hospital in Liverpool, England, surrounded by wires, tubes and equipment.
Only one parent can stay with her, mom Emma remains at her side and her dad Wayne has returned to their home in Manchester where he has to self-isolate.
Her worried parents believe Erin, who was conceived naturally after the couple had been trying for a decade, can overcome this terrible virus considering what she's fought so far.
They have both praised the amazing work of the NHS team treating their daughter but are horrified by those in the U.K. still breaking the lock down rules and allowing this virus to spread.
'I take it personally'
Mr Bates says his daughter is in a stable condition adding: "People are still not taking this outbreak seriously and that upsets me. I take it personally.
"Even before we went into lockdown, when we went into a supermarket we were anxious because our daughter is susceptible to viruses.
"But people still don't seem to have any concept of personal space."
"It's all very hard to digest now – it doesn't really feel like it's happening to us, it feels more like I'm just watching this all as it happens to someone else.
"It's hard to believe that my baby could go through so much in her short life, but if anything, the fact she has already overcome so much gives us hope that she will fight off this virus too.
"All of the doctors and nurses have been really incredible and both Emma and I want to thank them from the bottom of our hearts for all they have done for Erin. Never could we have wished for more kind and caring people to be looking after our baby.
"How scary must it be for those who are going to work and looking after people who are known to have the virus? They are all putting their own lives at risk for little reward. We are eternally grateful to them."
"I'm isolating now for the protection of others. Everybody must follow the rules whether you have a sick child or not.
"But I had to step away as my wife is now by Erin's side, and she cannot leave. I needed to come home so I can stay healthy and so I'm available to help them.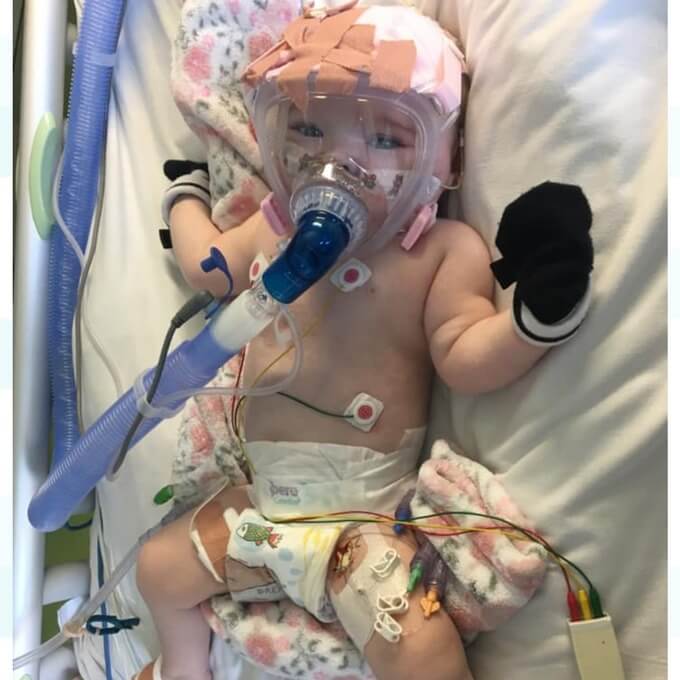 Emma wrote in a Facebook post they were "utterly heartbroken" to be a position where they may lose their little girl again.
"Please, please, please keep Erin in your prayers. We can't lose her over this virus. She has battled through too much – we need her, she completes us."
"I hope that those who haven't taken this virus serious read this and I hope it now sinks in."
Sending all our get-well thoughts and prayers so this little girl can keep on fighting. Please share to remind others to stay home!