You might think that living in a care home might be boring. Sure, they get to have Jell-O at lunch and play bingo on Fridays, but where is the excitement? The residents at a care home in Essex, England, called Milton Lodge decided that they wanted to spice things up in a bit.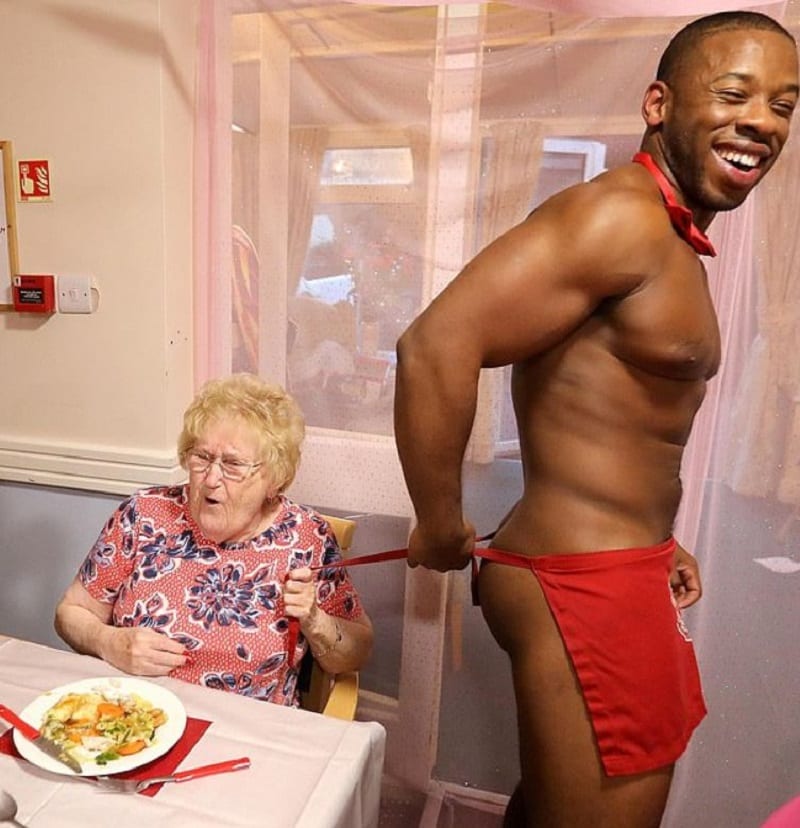 They wanted to hire some naked butlers to serve them for the day.
The staff thought it was a silly request, but who were they to tell them no? The staff granted their wish, and the elderly women were well-prepared when some buff and naked men showed up at the lodge one day. They had even invited their daughters and granddaughters to enjoy the show with them.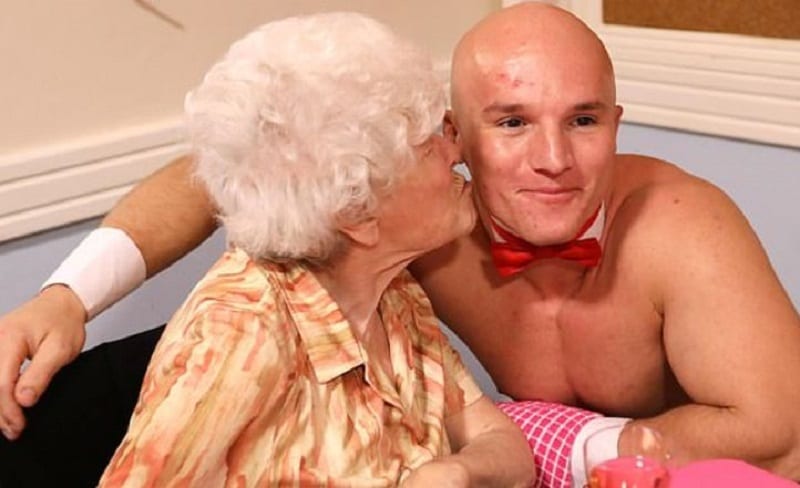 Claire Martin, who is the activities manager at the home, said she knew that the women were going to make this happen one way or another.
She explained:
"Whenever you ask Joan what she wants that day she always says 'a man. So we weren't surprised when she wanted it to be her wish. We had a chat here and everyone was really keen to support it. We had a look online and found a company called Hunks in Trunks. When they turned up we had to let them know what we wanted them to do. They had a three-course meal with a roast dinner. The ladies' daughters and granddaughters came. We asked them to do some harmless flirting, it doesn't matter how old you are, so why not?"
The women were served food, got massages, and got to joke around with the men.
The men also posed for photos with the women and their family members. Everyone seemed to have a good time, including the buff butlers.
One of the residents at the home, Gladys Smith, was surprised by how much fun she had. She said:
"The ladies were really excited, they had all been giggling and they dressed up. I had the front seat. It made quite a change and the boys done well. It was a good evening."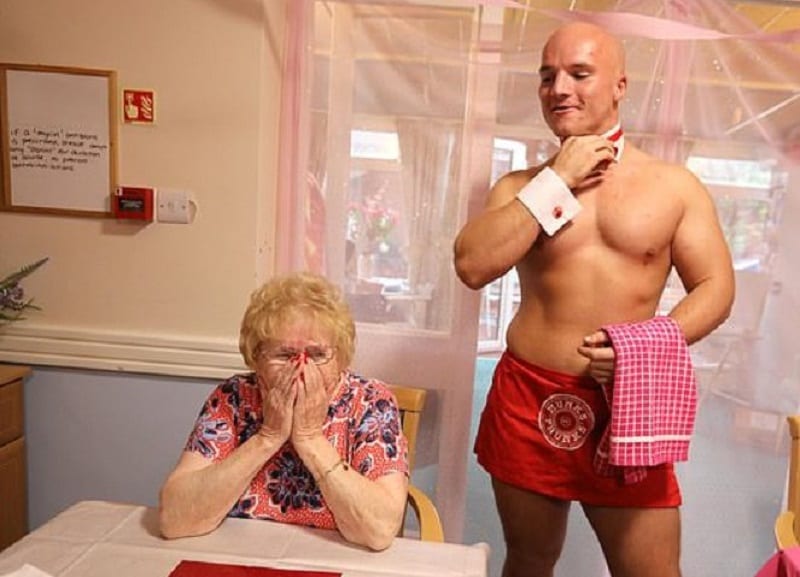 Of course, the staff members enjoyed watching their residents have so much fun.
They all giggled and laughed like they were young girls. Some of them were shocked at first but loosened up and had a good time. It was definitely something the women needed.
Martin added:
"They all had a massage, the butlers went around asking the ladies if they wanted a massage and they all said yes. After it had all finished, Doll told the staff she wanted them back for her 100th birthday, so we are going to have them back. They didn't stop laughing the whole night; they absolutely loved it."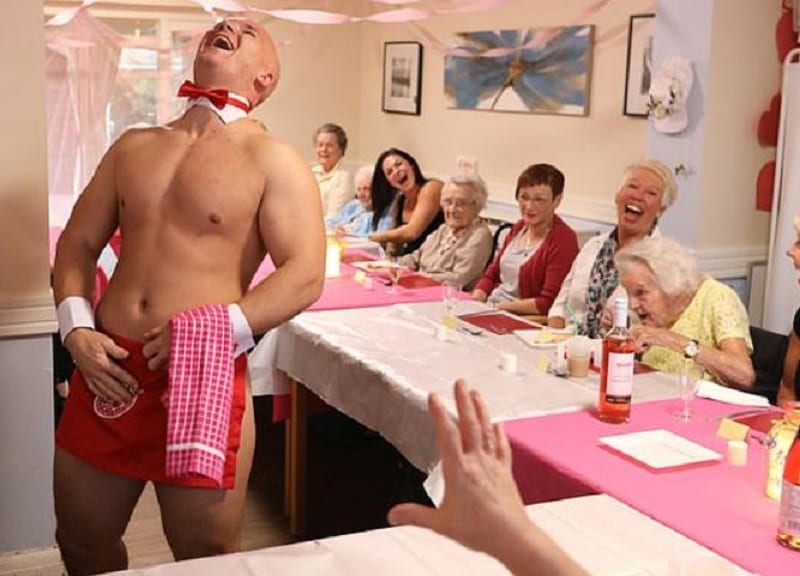 While you might think that the Hunks in Trunks idea is for bachelorette parties, the company actually does a lot of co-operating events, too.
It's a nice way to get to know your business partners, and it just makes for a good time for everyone. The Hunks in Trunks website says:
"Hunks in Trunks provides Naked Butlers, Topless Waiters and the Naked Chef Service across the Essex Area. Our Essex naked butlers and the Naked Chef Service are perfect for any occasion including hen nights, birthday parties, private or special events, and even a baby shower. They are also a popular choice for Essex companies looking to bring a spicy and fun edge to their corporate hospitality."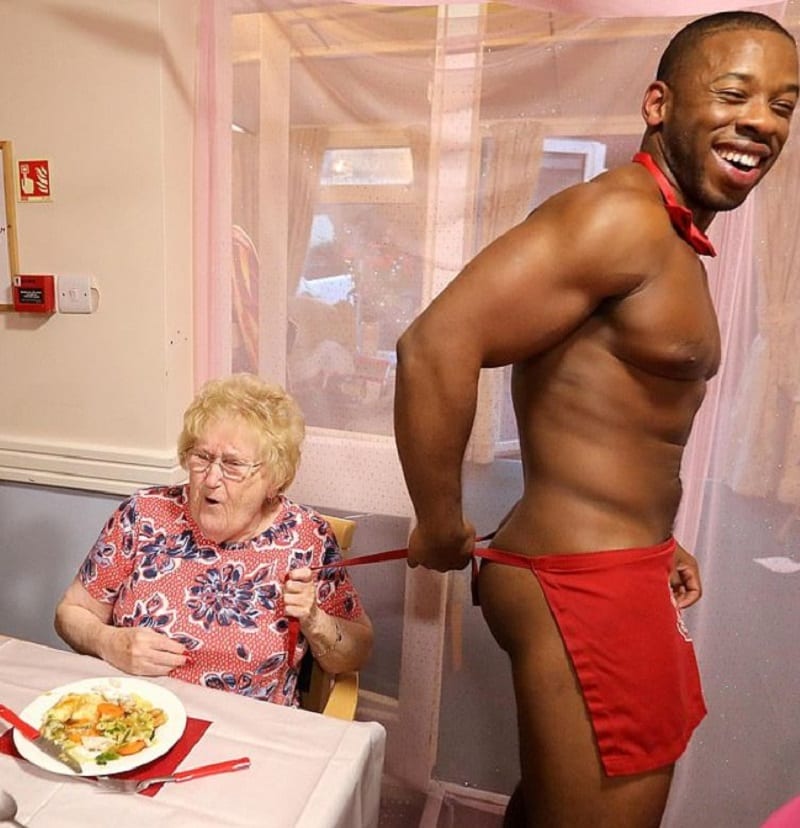 There's no word on how many nursing homes or care facilities the hunks visit, but now that Milton Lodge has started this new trend, other care facilities may follow suit.
Just because a person is getting older doesn't mean they can't still have a good time. These women prove that you are never too old to enjoy a buff naked man!