Doctors, nurses, and all kinds of medical personnel are going way beyond their own capabilities to curb the threat of COVID-19. Probably, we will never be able to truly put it into words just how grateful we are for people in the medical field.
Recently, one such thank-you note to the doctors spread rapidly on social media. In it, a discharged coronavirus patient thanked the medical personnel that took care of him and nursed him back to health.
When he started getting headaches and fever, he never thought he would become one of the first cases of COVID-19 in his home state Ohio. Nic and his family were living in a rural area, so he didn't think that the chances of getting the virus were high. Unfortunately, our lives are full of unpleasant surprises.
After Nic's health continued deteriorating, he was transferred to an intensive care unit in Cleveland Clinic. Nic told the media that at one point, doctors even called his wife to discuss end-of-life options. Nic was on full life support.
But every day, doctors and nurses would write goals for the day on the glass door in his room.
One day, they left a very special message:
"We will get you home."
Thankfully, soon enough, Nic's body fought off the virus and he says that he got a "second chance in life." He was extremely grateful for the care that he received, saying that he has never met such selfless people in his entire life. For this reason, he decided to leave a message for the medical personnel that nursed him back to health.
After fighting for his life in ICU, Nic was discharged and left a heartfelt message for the personnel.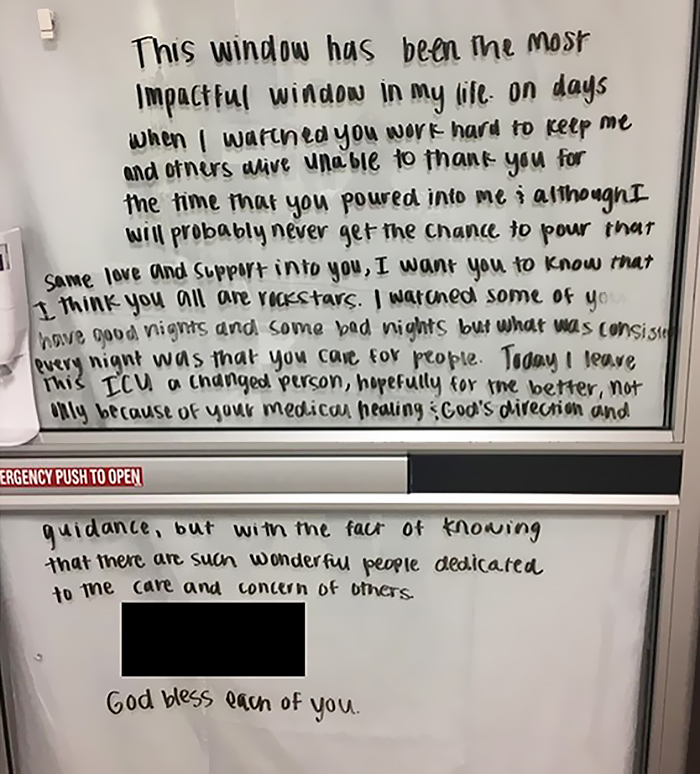 Cleveland Clinic shared the message he left behind on its Instagram and wrote."We received this touching message from a COVID-19 patient who was recently discharged from the MICU. While being treated, our caregivers frequently communicated with him by writing on the glass door in the isolation room."
The message, which soon went viral and touched many people's hearts, read: ⠀⠀⠀⠀⠀⠀⠀⠀⠀
"This window has been the most impactful window in my life. On days when I watched you work hard to keep me and others alive, unable to thank you for the time that you poured into me—and although I will probably never get the chance to pour that same love and support into you, I want you to know that I think you all are rockstars.

I watched some of you have good nights and some bad nights but what was consistent every night was that you care for people.

Today I leave this ICU a changed person, hopefully for the better, not only because of your medical healing and God's direction and guidance but with the fact of knowing that there are such wonderful people dedicated to the care and concern of others. God bless each of you."⠀⠀⠀⠀⠀⠀⠀⠀⠀ ⠀⠀⠀⠀⠀⠀⠀