Seriously, this has to be the most beautiful story we have come across in awhile.
Sadly Janice Maureen's Murphy's daughter Analiese died just over an hour after she was born, her heartbroken mum decided she would still take her to Disneyland.
The grieving mum kept her daughter's ashes in a purple teddy bear, which she brought to the park with her. And although she says she spent 10 minutes in tears over the things her little girl would never get to experience, the sensitive, emotionally astute and all-round loving way the park's Fairy Godmother treated her and – the teddy – comforted her enormously.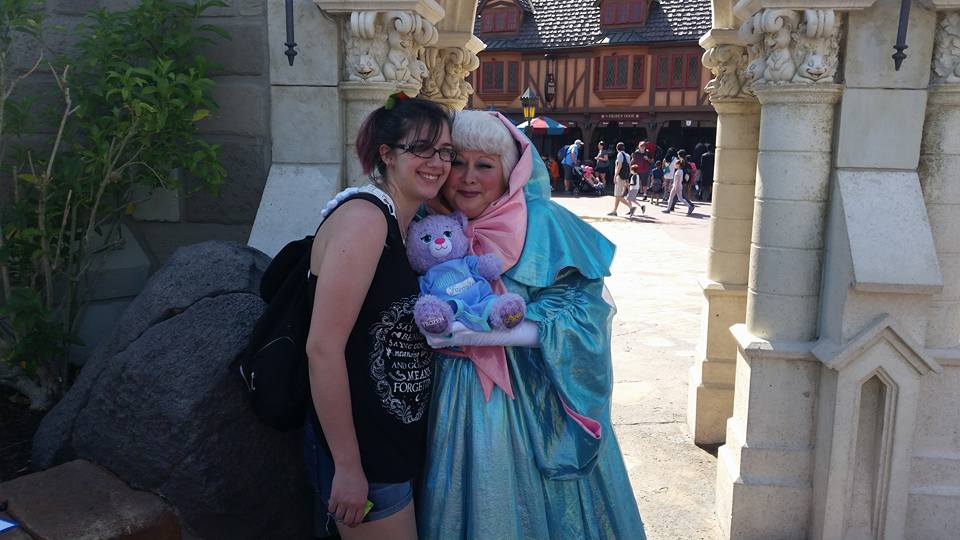 Janice took to Facebook to express her gratitude for the way she was treated.
*Thank you everyone, so much, for all the kind words and messages, and most of all for helping to share our story. 
Many of you have expressed faith and assured me that we will have more children and to not lose hope. Well, I hope you're right. My story is longer, and more tragic, than this glimpse shows. The full explanation can be found on my blog, but the short version is having children that will live long enough to come home is a much more complex situation. Keep us in your thoughts and prayers so that we can raise a family one day.*
To the Fairy Godmother I didn't know I needed, 
You had no idea the young woman that was holding a purple teddy bear was me. I was just another stranger, waiting in line to meet a character at the most magical place on Earth. I was smiling but you didn't know I spent 10 minutes in tears over the things my daughter will never experience. You had no idea what that purple teddy bear represents to me. 
Despite your utter lack of knowledge, you included the bear in our interaction. And when you found out that my daughter died, and that her ashes are within the bear, you treated her the same way you treat every child that comes to see you every single day: with love, compassion and kindness. When you hugged her, and kissed her cheek, you made me feel like Analiese mattered to you. 
You may not ever see this, and even if you do, you may not remember us. But I will always remember you, and how you hugged and loved on my daughter as if she was like any other child. You helped me feel her spirit in a place she was never able to visit while alive. 
Thank you thank you thank you. 
Love, 
Analiese's mommy.
Wow how amazing is this, proof that a moment of kindness and concern for others goes a long way.
Spread the good vibes. Share with your family and friends.