By Lori Weiss
As Lyndsey Ekstrom sat in a nail salon, primping for a getaway weekend with her family, she looked down at her toes and saw gold. Not the glitter that we often see, on freshly pedicured toes, but more of a golden ticket that would help her and her two sisters, Christy Hepworth and Keri Evans, bring in a little extra cash.
"I was watching as they were putting a new product on my toes," Lyndsey recalled, "and thinking, I'm paying sixty dollars for this and it took minutes. There has to be a way that I can do this at home."

"She came over afterwards to show us," Christy added, "and we could see that they were like stickers. We knew we had to figure out exactly what they were."
The crafty sisters went to the internet and quickly discovered the treasure trove they were searching for. The product was a type of nail wrap — strips of colorful vinyl, easily applied and bound to the nail with the warmth from a blow dryer or mini heater. But at the time, they were only available to professionals.
The women, all stay-at-home moms, who between them have eleven kids, had often thought of ways they might work together to bring in extra income. And there, right at the tips of Lyndsey's toes — they felt like they could be steps away from the answer.
"We talked about starting some sort of business all the time," Keri said. "We had tried making headbands for babies and we thought about creating homemade lotions and soaps. But when this came up, I knew we'd found the answer. But I wondered how we were going to do it. We didn't know the first thing about vinyl and nails."
Yet it was an idea that the women couldn't seem to let go of. It didn't make sense to them, that such a simple technique should be limited to licensed nail technicians. And it just so happened, that there was someone in the family that knew a little something about making things stick.
"My husband Adam and his college roommates had a business manufacturing snow skis," Christy explained. With every pair they sold, they'd give the customer a few stickers with the company logo on it. So we already had a small vinyl cutter in our home."
"And the more we looked into it, the more Adam was convinced that no one had tapped into the public market — and that if we could figure out how to do this, we'd have a business. He thought it would be something fun for the three of us to do together."
"We thought maybe we could each make an extra $400 a month and buy some cute clothes," Lyndsey said with a smile. "That was our goal. $400 each would be amazing."
Never in their wildest dreams, did any of the three sisters imagine where they'd be fours years later –the founders of a company that would bring in more than 10 million dollars a year.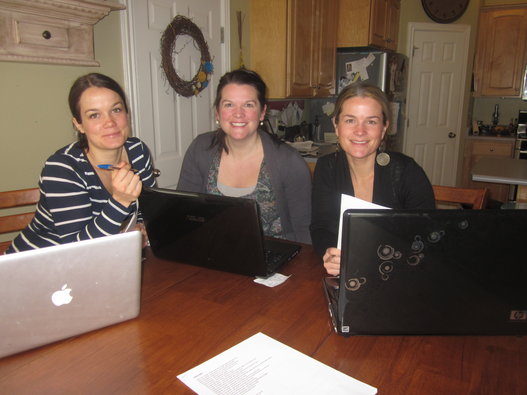 "We started researching vinyl distributors in our area and testing materials," Christy said. "We'd each wear different ones, to get a sense of what felt best and how long they would stay on. And once we found a material we liked, we pulled stock images off the internet to bring to the printer. It was just a hobby, so we weren't going to put a lot of money into it."
The women picked out 25 designs — stripes and polka dots and trendy patterns — and then had a printer create a few sheets of each one. They put the nail wraps into little cellophane packages and attached homemade labels — still not quite sure where they'd sell them, but confident enough to feel like at least their friends would like them.
"And then Adam came home one day," Christy laughed, "and said, 'I think you guys should do the 'What A Woman Wants Expo', an event here in Salt Lake City, that features beauty and exercise products and things for kids. I said, 'What are you talking about? I've never even been to a trade show! That's when he said he'd already reserved a spot — and it was that weekend."
So there they were — three stay-at-home moms, who just wanted to make a little extra cash — surrounded by entrepreneurs who had clearly made the expo rounds. They put up a magnet board displaying their designs, put order forms out on the table and then did what came naturally. They showed all the women who walked by their nails. By the end of the weekend, they had brought in $4,000.
"It was just crazy," Lyndsey recalled. "We couldn't believe we made all that money! We took ourselves to dinner that night and we each took a hundred dollars. And then put everything else towards supplies — because we had to fill those orders!"
A month later, the women, with a little experience under their belts, tried it one more time — this time at a Christmas fair. When they doubled their money, they knew they were on to something. And it was more than a little side business.
"After that," Keri said, "we took some of our earnings and went away for the weekend with our husbands and began to hash out a business plan. We had talked about selling the nail wraps to stores, but putting them on is such an experiential thing, that we were concerned that people wouldn't understand what to do with them, if they just saw them sitting on a shelf at Walmart."
So there, in a hot tub in Park City, Utah, the three couples wrapped up a plan. They decided they were going to find a way to keep the fun in their new venture — and begin selling the product they named Jamberry Nails at home parties.
But first they had to fill all the orders that had come in at the Christmas show. The families invested in a nine-foot printer and set up shop in a room above Lyndsey's garage.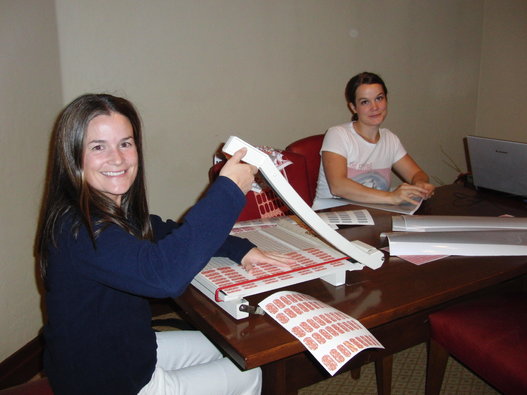 "Adam brought over space heaters and a sleeping bag" Lyndsey remembered. "He'd spend the night and squeeze in a nap as the printer churned out nail wraps. And the three of us would get together after we put the kids to bed. We'd order pizza or make a grocery run, to help us stay awake, because we were usually putting together packages until 3 in the morning."
At the same time, they began to research what it would take to set up a business similar to Pampered Chef or Stella and Dot — where consultants sell directly to customers. And they decided to run a few sales on deal sites, to keep the money coming in. Adam signed them up for a spot on SaveMore.com — capping off possible sales at 10,000 sets — never really thinking they'd actually hit that number. But the demand became so high, they agreed to extend the deal, selling nearly 12,000 over the course of three days.
And they got more than just sales. With that list, came an equal number of new contacts. They had email addresses for women all over the country — women who clearly liked pretty things and might just want to make a little money. So the sisters sent out an email blast announcing the start of their direct sales business — and within weeks, they found their first 20 Jamberry nail consultants.
It had only been ten months since they had sold their first set of nail wraps, but their business was clearly outgrowing the small space above Lindsey's garage. It was also getting bigger than what the sisters could handle alone. So Adam took on the role of CEO, they rented warehouse space and began hiring employees to handle the operations side of their growing company.
"That first year, it was hard to keep up with the growth and still be home with the children," Christy sighed. "I'd put the kids down for a nap and hurry to put on a set of nail wraps, so I could take pictures for a catalog. There were days when we all wondered whether we were being okay moms and doing okay by the business — days where we wondered whether it was worth it."
But as the company continued to grow, the three women were able to find their balance. They focused on what they loved — spending time together and overseeing the creative aspects of the business — still trying on each and every one of more than 500 designs to decide which ones will make it into the company's catalog.
And to be sure they never miss any great ideas, they created a nail art studio on their website — where customers can send in pictures of their kids, pets and favorite patterns, to have their nail wraps customized.
They have also become the brand's ambassadors — rock stars in their colorful world — appearing on stage at national conferences to welcome their consultants into the Jamberry family.
"We're just normal moms," Christy said with a sense of astonishment, "but our consultants line up, asking us to take pictures and get our autographs. We just keep asking ourselves, 'How did we get here?'"
Many of their consultants are asking the same thing. In four short years, more than 20,000 women throughout the US, Canada, Puerto Rico and Guam have joined the Jamberry ranks and for many, it's been life changing. They've paid off debts, sent their kids to private schools and taken vacations they never thought possible. Earlier this year, the company hit an all time high — paying out two million dollars in commission in just one month.
"This is all still surreal to me," Lyndsey said with a smile. "We weren't trying to make millions. We just thought it was something fun to do together."
"Initially we just thought we'd be able to buy some cute shoes," Keri laughed.
"And maybe that's the key," Christy wrapped up. "Start small and surround yourself with good business partners. You never know what you can accomplish until you get out there and try."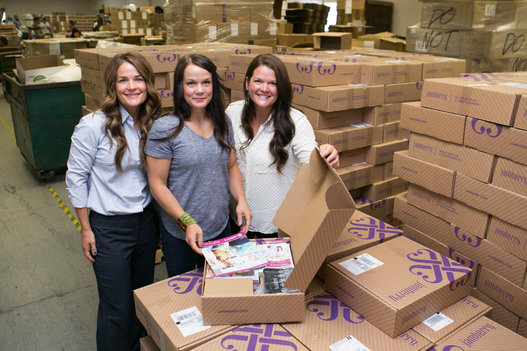 **To read 60 other inspiring stories — buy your copy of Marlo Thomas' "It Ain't Over Till It's Over." Click here.**