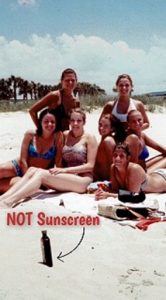 You see that girl on the right in the blue bathing suit?  I wonder if the ghost of Kristen's future told her that in nine years she'd be under the knife for skin cancer if she would slather on the sunscreen. You see, that young lady is me, living it up in the sun with my girls without a care in the world.  Flash forward to present day and I'm gearing up for my second procedure to have basal cell carcinoma cut off my face.
My first scare with skin cancer was eight years ago almost to this day.  After the plastic surgeon took a slice off my left cheek I swore I would wear sunscreen "from now on."  But over time the scar as well as the trauma of it all faded and I was back to my old ways, romping around in the great outdoors without protection from the sun.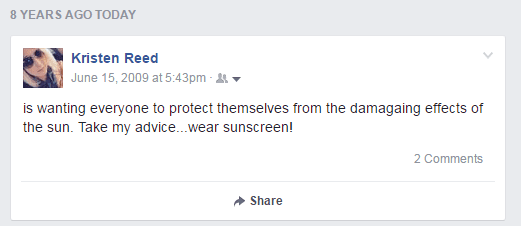 As I sit here I dwell on all the damage I've done to myself.  All the countless trips to the tanning bed during my co ed years.  Lying poolside and ocean side lubed up with SPF zero suntan lotion.
And then there was that summer I spent lifeguarding at Morey's Piers.  I'm fairly certain I took years off my life the first day on the job. I was running late (as use) and failed to put on my sunscreen.  Oh yea.  Nothing will scorch the skin right off you like being perched atop shotgun falls with nothing but a baywatch style swimsuit and a stark white lifeguard tank.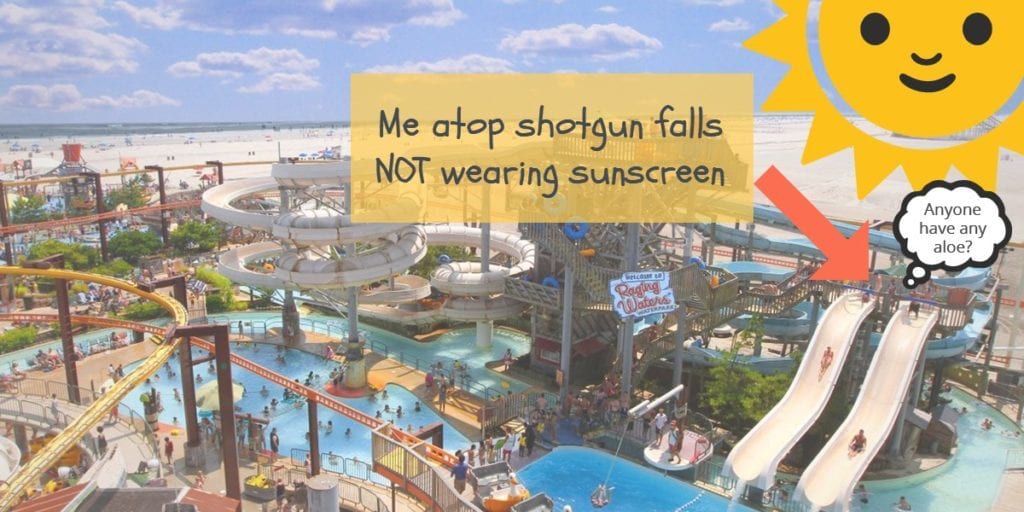 The pain of it all stings.  No, literally.  My face is stinging right now.  And I'm reminded of what an idiot I've been even in my post basal cell extraction years.
If you're a thirty or forty something you've been around long enough to witness the rise of the tanning salon. Either you or someone close to you spent wasted hours in those glorified radiation chambers for the sole sake of looking gooood.  And although I became aware of the harmful effects of UV rays, I was floored to recently come across this staggering statistic:  The risk of melanoma increases by 75% for anyone who started tanning before the age of 35.  Seeing as I'm coming up on 37, I'm most certainly part of this figure.
Fun facts like this are why so many derms have their patients on waiting lists. They're cashing in on our misguidance and misfortunes.  The disease has run rampant in recent years and is plaguing our friends, families and even star celebrities.  After all…they're just like us!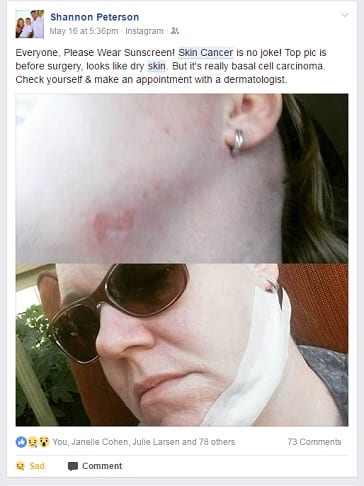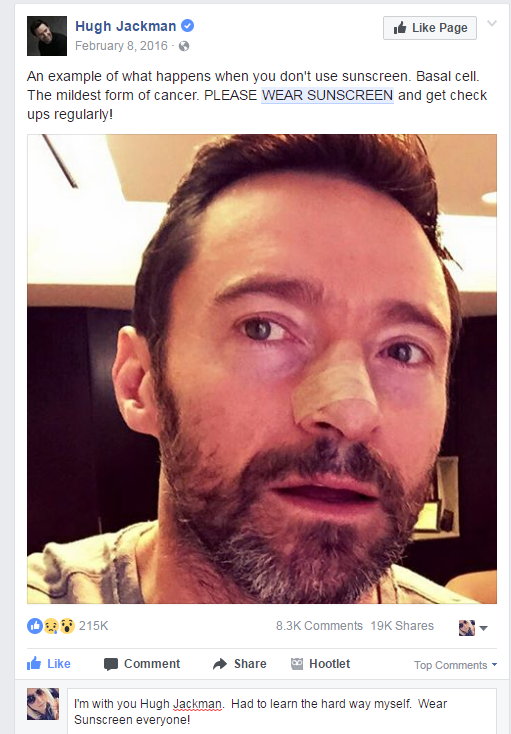 Isn't it crazy how the things that make us feel so glam in our youth end up coming back to bite us in our ass later on in life? So take it from me ladies and gents, please WEAR SUNSCREEN.
To drive it home a bit further, I'll end with a short excerpt taken from a hypothetical commencement speech by a writer at the Chicago Tribune.  It was later revamped into a successful spoken word song by one of my favorite film directors, Baz Lurhmann.
"If I could offer you only one tip for the future, sunscreen would be it.  The long term benefits of sunscreen have been proved by scientists."
Considering it's the season of Dads and Grads, I encourage you to take a minute and watch this video. It offers sound pieces of advice for anyone at any stage of their life including the invaluable injunction to "wear sunscreen."
This article was written by Kristen Reed and originally published on iBringtheHappy.com.