A mother in Florida has been arrested for child cruelty after allegedly beating her daughter and making her wear a humiliating T-shirt to school because of her grades.
Hand-written messages on the front and back read: "My name is (redacted) I currently have all F's (sic) in all of my classes. I am not aloud (sic) to have a boyfriend no time soon.
"So back off before I get another good woopin (sic) like I got last night. Also I can no longer have any friends until all of my F's are all brought up to C's and up!!!
"So unless you are helping me with this goal…back off!!! My eating French fries & being a social butterfly is over because I know why my parents send me to school.
"I now know the importance of my education. I will learn. I will listen to my teachers and be respectful, at all times.
"I will do these things because I am failing (redacted) due to my social life. Want to be my friend 🙂 help me by not!!! (redacted)"
The girl, aged between 10 and 14, arrived at West Hernando Middle School, in Brooksville, wearing it on Friday, NBC Miami reported.
It was unclear whether the child had been made to write it herself or whether the T-shirt had been made by a parent.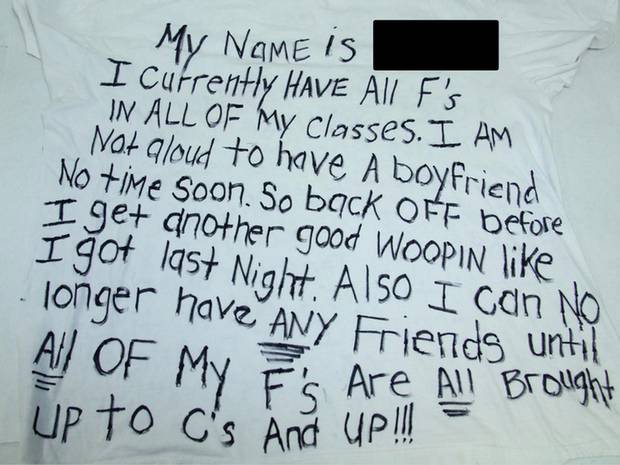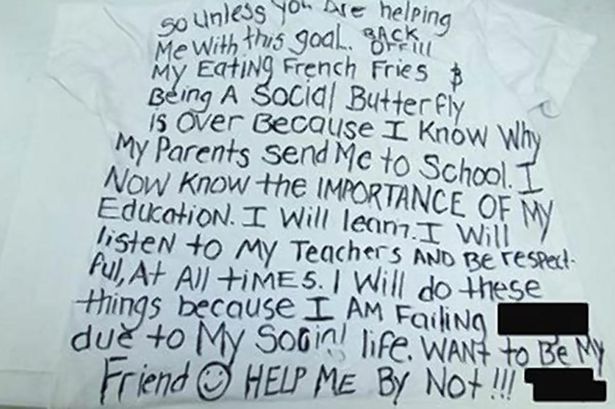 When she started changing into another top given to her by concerned teachers, they noticed what appeared to be bruises and marks from a studded belt all the way down her arms.
Police who were called from the Hernando County Sheriff's Office said the child told them she had been beaten by her mother the evening before.
"She was hit with a belt all over her body basically from the neck to the legs and it did leave pretty substantial marks," Sheriff Al Nienhuis told television station WFLA.
"This wasn't a spank you with the hand that maybe you got when you were small on our behinds."
He said the fact Alexander appeared to deliberately "let the world know" she beat her child was "pretty scary".
Alexander has been charged with one count of child cruelty causing bodily harm and was bailed released after posting a $2,500 (£1,600) bond.