Constance hall took to Facebook to pen her frustration at the day she just had with her daughter, but she wasn't expecting this response from a mum she didn't know. Here's Constance Halls original post with the response beneath.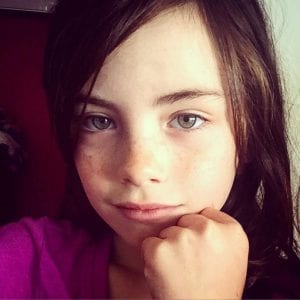 Yesterday morning and my daughter began her daily homage to how shit a mum I am because she couldn't find her school uniform, didn't want to brush her hair, shouldn't have to brush her teeth. She flips from being perfect to being a monster.
She parted with something along the lines of, "you are the worst" and slammed the door.
I went to work, wondering how I am going to control this fierce little shit for a minimum of another 10 years.
Denim and I left work late last night, we got some dinner and begun the long drive home. Half way there out of the blue Denim told me that he wanted to show me his ex wife's grave.
Surprised, I wasn't going to say no. So we parked in the cemetery and went to pay our respects.
Next to her grave was a grave so lit up with a hand painted wooden pink cross, fairy lights, flowers and so much soul, we left and both looked back wondering who's grave that was. So we ran back to check.
It was a little girls, we don't know her, we don't know her story. All we know is that she was very much loved and 10 years old.
I think I was supposed to see that grave.
So today my darling daughter, hate me and be bitchy if you must and I'll spend my day gratefully smiling back at your little frown..
Because truthfully I can't control you little wild child, I can only do my best to protect you and constantly remind you of how eternally grateful I am that you are here
This post was so beautifully written but it was the response from one mum on her feed that floored us: 
Grace Turanga responded,
Yes I think that's my beautiful Haylee's grave that you're talking about. Thank you so much for running back to check who it was. She was such a beautiful, happy caring soul and didn't have a single bad bone in her body! Sadly she was taken from this world October last year in a motorcycle accident and my heart still breaks every minute of everyday.
So many of my friends and I have spent so much time and effort trying to making her grave a beautiful and nice place for people to visit. I want people to still talk and play with Haylee. So please don't worry about standing on her or anything like that. Sit all over her and touch the fairies and their castle, there's even a little tea set there so u can have a tea party with her. Don't worry about moving or breaking things. Let your kids touch and play with things there. Everything there can be replaced and Haylee would love people enjoying her and her space.
Also thanks for stopping to appreciate your girl and her frown
😊. Babies are such a beautiful gift. I would give anything to be able to be getting Haylee ready for school.
Thank you for seeing her, you really have made my day….