"Yesterday I went from celebrating an 11-year-old boys birthday party with my brothers and sisters at work to responding to the absolutely tragic death of two babies.
This is the other side.
The raw side that nobody talks about.
The side everyone who isn't in law enforcement doesn't realize happens to us… but believe it or not, we grieve too.
We are humans.
You just don't know because once we leave that terrible, heart wrenching call, we come to you and there are no tears or anger from the last call we were at.
We're just there to take care of you.
I simply 'file it away' as I tell people that ask, 'How do you deal with the things you've seen?'
This picture was taken a few hours into my shift today and you guessed it, I had to wipe those tears up and go to the next call.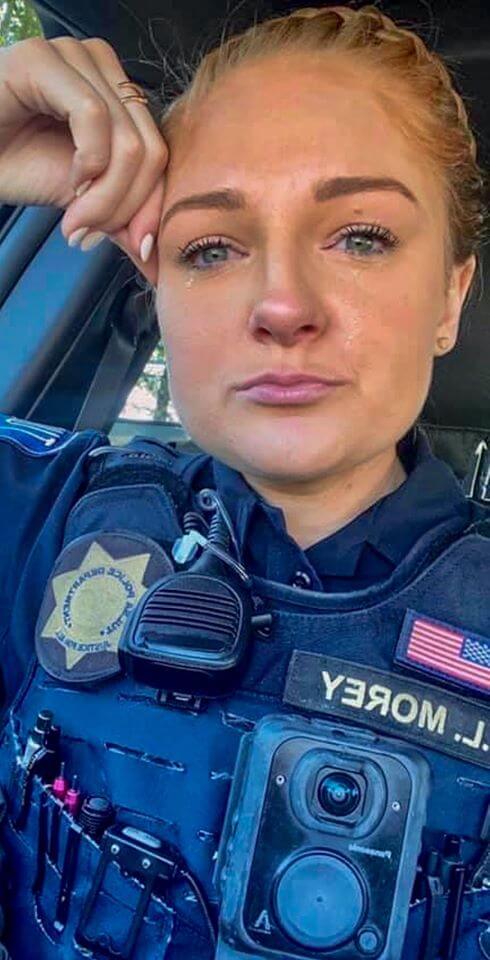 I wholeheartedly understand I'm not the only person affected by this, and there are so many people, family included, who this affects more than me.
I understand that and I am not trying to take anything away from anyone at all. It's simply on my heart to share this tonight.
I know with what's going on in our world right now it won't accomplish much, but I just pray you have mercy on all of us.
We are all fighting a battle that you can't see just by looking at us.
We take this uniform off every night and we crawl into bed and have to learn how to process the grief, just like any other human being.
To my brothers and sisters who are battling it too, thank you for not giving up and I am always here to listen."