Moms who give birth via C-sections often feel that it is an impersonal experience. As a mom who delivered all 4 of my children this way and as grateful as you are for the safe delivery of your baby, you still can't help but feel like you've been robbed of a very special moment. Seeing the very moment your child is born. A drape is hung so you are unable to witness the birth of their child, and then you are taken into a recovery room, leaving you to miss those precious first few hours with your baby
A new trend is hoping to make C-sections more intimate.
"A gentle C-section allows a woman to be almost as involved as if her birth was happening vaginally."
Compared to a regular C-section, a gentle C-section aims to involve the mother as much as possible.
"The most common requests that I have seen included in a gentle C-section birth plan call for immediate skin-to-skin contact after delivery and the initiation of breastfeeding in the operating room," Allie Sakowicz, a certified birth doula said.
Many mothers are now choosing to use a clear drape instead of an opaque drape during their C-section.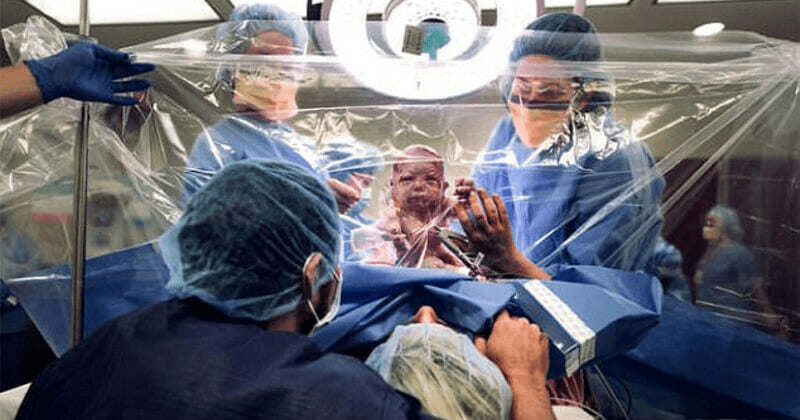 When a clear drape is used, a solid drape is still used when the initial incision occurs, then just before the delivery, the doctor can drop the opaque portion so the parents can witness their child's birth.
Tracey Abney, a doula and photographer, who gave birth via C-section but has had clients who have had gentle C-sections, believes gentle C-sections helps mothers feel connected to the birth.
"Clear drapes help the mother feel like she is part of the birthing process.
She can see her baby before it is taken to the warmer.
She can see the baby when everyone else does, the moment the baby is born.
She can match the sound of the baby's cries while watching the quiver of the baby's little chin."
Finally, this is now a thing. Why did it take so long for someone to think of this? Share on Facebook if you believe C-Sections could be made more intimate.